Money
Cost of Unused Paid Subscriptions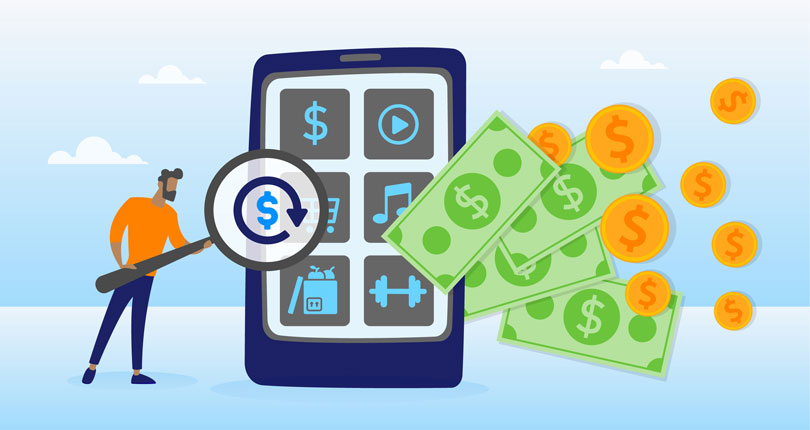 Convenience comes at a cost especially when it comes to subscription services. In a bid to uncover the true cost of subscriptions, a survey on behalf of Self Financial collected views from 1,106 Americans who have active paid subscriptions.
The results highlight the most popular subscription services, the price attached to them, how many paid subscriptions are going unused and more.
Key findings
The average household has 4.4 active paid subscriptions.
Most people reported spending $52.97 a month on average for their paid subscriptions.
Over 30% of subscriptions are going unused each month, an average of 1.4 paid subscriptions.
The monthly average value of unused paid subscriptions is $25.34.
A third (33.3%) said they are canceling subscriptions as a direct result of inflation.
Amazon Prime is the most common paid subscription that people haven't used in the past 30 days (32.5%).
Disney+ is the most unused TV streaming service, with Amazon Prime Video in second position.
69.4% of Netflix users are looking to make changes based on the new Netflix anti password-sharing rules in 2023.
Section 1: Paid subscription services
To establish the current state of paid subscriptions in the U.S. a survey on behalf of Self Financial asked respondents a series of questions about the current subscriptions they have in place and the impact these have on both their finances and everyday lives.
Most households have 4.4 paid subscriptions active
The number of subscriptions people have can differ hugely based on a number of factors like household income, expenses and amount of free time.
The survey found that most people had 4.4 paid subscriptions services active in a typical month. Some people may cancel and change subscriptions each month, so respondents were asked to answer in relation to a typical month in their household.
Most people (68.4%) prefer to pay for their subscriptions on a monthly basis, 6.1% prefer every quarter, and 4.9% opt for one large annual chunk payment. These yearly payments are often cheaper than paying monthly, meaning, most people aren't opting to claim such financial benefits.
$52.97 is the average monthly cost of paid subscriptions in the U.S.
Subscription models can come in all shapes and sizes, designed around the customer's needs. But how much on average are Americans spending on their paid subscription each month?
The survey found that the average monthly cost of paid subscriptions in the U.S is $52.97. When analyzing the most common price ranges of paid subscriptions, most subscribers, (67%) spend between $1 and $50 on subscriptions each month. In 2nd place for the most common monthly cost of subscriptions at 15.64% was $51-$99.
How much Americans spend on paid subscriptions per month combined
Amount per month ($)
Percentage of respondents
$1-$50
67%
$51-$99
15.6%
$100-$150
10.0%
$151-$200
4.7%
$201+
2.6%
2.8 people on average are using paid subscriptions in the home
A big draw for people when using subscription services is that they are able to share their experience with their household. The survey asked our respondents how many people are using subscriptions within their home.
One in three (31.7%) said that they currently share subscriptions between two people, while more than a quarter (25.3%) said their subscription services are shared between three people.
Convenience and value for money are top benefits for subscribers
There are a whole host of reasons people may choose to subscribe to a subscription service. While convenience may be the main one that comes to mind this study wanted to identify what the main benefits of subscriptions were.
Convenience of subscription services was the biggest benefit for consumers (50.4%), followed by good value for money (41.6%), while almost two fifths (38.9%) said such services improved their quality of life.
Top benefits of paid subscription services
Rank
Reason
Percentage of respondents
1
Convenience
50.4%
2
Offer good value for money
41.6%
3
Improves my quality of life
38.9%
4
Makes me feel good
38%
5
A nice treat
37.1%
6
Makes other people happy
32.1%
7
Enjoy the surprise each month (box subscriptions)
24.3%
1 in 5 aren't budgeting for their paid subscriptions
To understand the impact paid subscriptions are having on the average American's monthly finances, the survey asked subscribers if they factored them into their monthly budget.
79.2% said that they account for their paid subscriptions while 20.8% didn't in their budget, or didn't really consider a financial budget each month at all.
The main outcome of not budgeting for paid subscriptions for the subscribers surveyed that admitted to not budgeting was overdrawing their bank account (13%).
Top 5 outcomes of not budgeting for paid subscriptions
Rank
Outcome of not budgeting
Percentage of respondents
1
Went into overdraft
13.0%
2
Had to cut back other outgoings
12.6%
3
Got into debt
12.2%
4
Reduced paid subscriptions
8.3%
5
Had to borrow money from family or friends
7.4%
Section 2: Unused paid subscriptions
To better understand how many paid subscriptions are going unused the survey asked the subscribers surveyed if any of their paid subscriptions were still being paid for each month despite not being used.
The survey defines 'unused' paid subscriptions as those being paid for but that had not been used in the past 30 days. This took into account the popularity of monthly paid subscription payment schedules [1] TrueLayer, 'Annual vs monthly subscription billing schedules' https://truelayer.com/blog/annual-vs-monthly-subscription-billing-schedules/ and 30-day free trials [2] GearPatrol, 'Love a Free Trial? Here's What All the Most Popular Streaming Services Are Currently Offering' https://www.gearpatrol.com/tech/a721673/streaming-services-free-trial-roundup/ in the U.S.
54.6% of survey respondents said that they have at least one paid subscription going unused, while 45.4% said they currently use all their subscriptions each month.
Americans have 1.4 paid subscriptions going unused
Next the survey asked those who had unused subscriptions how many paid subscriptions they currently have that haven't been used in the past 30 days.
The results showed that most subscribers have an average of 1.4 subscriptions that they aren't using each month.
Subscribers are wasting an average of $25.34 per month on unused paid subscriptions
The survey also sought to find out how much people were spending on their unused subscriptions each month.
The monthly average value of unused paid subscriptions was revealed to be $25.34 To contextualize this further, the Netflix premium plan, as of April 2022, is $19.99/month, the same cost as the Disney+/Hulu/ESPN bundle (ad-free).
A third (33.4%) plan to still pay for unused subscriptions
The survey asked those who had paid subscriptions going unused if they had thought about canceling them. A third (33.4%) were happy to continue paying for these unused subscriptions, while the other two thirds (66.4%) will take action and cancel these subscriptions in the near future. It is possible the survey caused some individuals to review their subscriptions while responding.
A third canceling subscriptions 'due to inflation'
For those intending to cancel or that had canceled paid subscriptions this year the survey looked to understand the exact reasons behind such decisions.
Looking to reduce expenses came in as the main reason for canceling unused paid subscriptions at 40.8%, followed by people not using their subscription enough (35.9%), and worries relating to inflation (33.3%).
Top 10 reasons Americans are canceling unused paid subscriptions
Rank
Subscription model
Percentage of respondents
1
Looking to reduce outgoings
40.8%
2
Don't use enough
35.9%
3
Inflation concerns
33.3%
4
Didn't offer value anymore
29.5%
5
Found a better deal elsewhere
28.2%
6
Price has increased
24.8%
7
Only needed for a limited time
23.7%
8
Found better service elsewhere
20.9%
9
Free trial ran out
14.1%
10
No option to change or edit the subscription
13.0%
Most people don't cancel subscriptions because of automatic renewals (44.4%)
When it came to why some may not have canceled subscriptions in the past, or are currently struggling to cancel services, having automatic renewals set-up was the main obstacle cited by respondents. For example, a streaming service automatically renews each month which causes people to forget the need to cancel.
One in three (31.6%) admitted that the main reason for them not canceling their unused paid subscriptions was lack of free time. While more than a quarter (28.5%) felt that the company made it difficult to cancel the subscription. Some companies may require you to call them to cancel, rather than actioning this in the account settings for example.
Top reasons Americans are putting off canceling unused paid subscriptions
Rank
Reason for not canceling
Percentage of respondents
1
Subscription automatically renewed
44.4%
2
Lack of free time
31.6%
3
The company made it hard to cancel
28.5%
4
Locked into a fixed term contract
19.9%
To find out if technology could play a part in preventing this in the future, the survey asked our subscriber respondents how they keep on top of their paid subscriptions.
Over a third (36%) manage their subscriptions on their laptop or desktop, 20.3% use their cell phone, 18.3% use a dedicated app, while 17.8% like to call customer service representatives.
Those who rely on calling operatives to understand their subscription may find overviews of their account on websites and apps easier to manage billing and subscriptions.
Amazon Prime is the most common unused paid subscription
The survey asked the respondents who currently have unused subscriptions which of the 10 most popular paid platforms [3] Statista, Share of consumers who were subscribed to leading subscription services in the United States in 2021 https://www.statista.com/statistics/1004527/leading-subscription-services-used-by-consumers-us/#statisticContainer they subscribed to but had not used in the past 30 days.
Amazon Prime was shown to be the most common paid subscription that they hadn't used in the past 30 days (32.5%). Walmart+ came in 2nd place at 25.8%.
Top 5 paid subscriptions going unused
Rank
Subscription model
Percentage of respondents
1
Amazon Prime
32.5%
2
Walmart+
25.8%
3
Dollar Shave Club
15.2%
4
Chewy
14.1%
5
Instacart Express
13.0%
Disney+ is the most common unused paid video streaming subscription
The survey also asked these respondents with unused subscriptions which popular video streaming platforms [4] Tom's Guide, 'The best streaming services in 2023' https://www.tomsguide.com/us/best-streaming-video-services,review-2625.html that they subscribed to but had not used for the past 30 days.
Disney+ was found to be the streaming service that most people weren't regularly using, with 29.3% leaving it unused for a month. In second position was Amazon Prime Video (22.3%) followed by Netflix (22.2%) in third.
Top 10 paid video streaming subscriptions going unused
Rank
Subscription model
Percentage of respondents
1
Disney+
29.3%
2
Amazon Prime Video
22.3%
3
Netflix
22.2%
4
Apple TV+
19.2%
5
HBO Max
17.8%
6
Hulu
15.7%
7
YouTube TV
14.0%
8
Peacock
11.2%
9
Sling TV
9.6%
10
Fubo TV
7.3%
Section 3: Sharing paid subscription logins
Sharing paid subscriptions for music, movies, and TV between family members is a good way to reduce costs while still keeping the benefits of the service. Some services, like Netflix however, are actively discouraging this with 2023 measures stopping password sharing outside of physical households. [5] USA Today, 'With Netflix password sharing on the chopping block, here are other streaming services you can use' https://www.usatoday.com/story/tech/reviewed/2023/03/02/netflix-password-sharing-and-other-streaming-services-use-instead/11382563002/
The survey asked the subscriber respondents if they shared their logins for paid subscriptions with people outside of their household. The majority (61%) said they did, while 39% said they didn't.
Interestingly, when this survey was last run in June 2022, 69% of respondents said they were sharing passwords, indicating a trend toward people purchasing their own accounts or not sharing passwords anymore.
51.9% of paid subscription customers share logins to save money
The most popular reason to share a subscription service (51.9%) was to save money. Others (39.4%) are sharing with others to gain access to other subscription services, likely in some form of account trade.
Top 5 reasons for sharing paid subscription service logins
Rank
Reason for sharing logins
Percentage of respondents
1
To save money
51.9%
2
To gain access to more subscription services
39.4%
3
To split the cost of subscription services
37.8%
4
To share the experience with friends and family
37.3%
5
Price increases have made subscription services less affordable
28.0%
69.4% of Netflix password-sharers are going to make account changes
Of those who said they use a shared Netflix account, 30.6% said they're not planning on making changes to their account setup in light of the recent Netflix password sharing crackdown news.[5]
A separate 36% said they were planning to cancel their subscription, 15.7% said they're planning to stop sharing an account, while 11.5% said they would only make a change if they were forced to by Netflix. Similarly, the final 6.2% said they would wait and see if there was any impact before they made any changes.
Methodology
The survey was conducted between 03/07/23 and 03/10/23 asking 1,106 Americans from a range of backgrounds, questions related to subscription services. Only people whose household pays for at least one subscription service were selected for the survey.
To establish how many paid subscriptions are going unused, the survey conducted on behalf of Self Financial asked a number of questions in the survey related to paid subscription services including cost, usage, subscription model and preference and household income.
'Unused' paid subscriptions were categorized as those that were being paid for but had not been used in the last 30 days to tie into the popularity of 30-day trials.
Sources