Money
Affording college: How to pay for college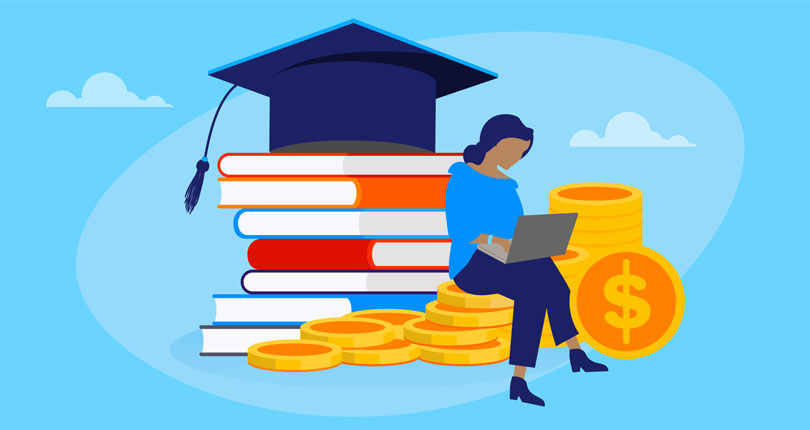 The rising cost of a college education can be a worry for students applying and hoping to get into their first-choice school. Most students will get the money from multiple sources including parents, financial aid, and scholarships.
We've put together some top tips and resources to help you understand the huge amount of information that's out there when it comes to how to pay for college.
How do people typically pay for college?
Students typically use a mix of sources to pay their college tuition, and most schools offer a financial counseling service to help students determine how to pay for college.
Here's a breakdown of how students in the U.S. typically pay for college in one academic year:
Source [1] How Do People Pay For College https://educationdata.org/how-do-people-pay-for-college
As seen above, some of the most common methods used to pay for a college education include:
Scholarships - There are lots of organizations, schools, and businesses that offer money for students' college tuition in the form of a scholarship. These are usually awarded for outstanding academic performance or for those who meet the scholarship's requirements.
Grants - Students can apply for a grant from the Office of Federal Student Aid through the U.S. Department of Education. These grants can either be merit-based or need-based depending on the student.
Family Savings - Many parents or guardians will take advantage of high-yield, long-term savings accounts to set aside money for their children's college fund. 83% of parents with a child attending school will pay towards their education costs.

[1]

How Do People Pay For College https://educationdata.org/how-do-people-pay-for-college
Student Loans - Most student loans are provided by the federal government, but there are some private organizations that offer loans as well. 40.5% of undergraduates aged 15 to 23 use student loans to pay their college fees.

[1]

How Do People Pay For College https://educationdata.org/how-do-people-pay-for-college
Work-Study Programs - Some students use a work-study program that enables them to have a part-time job that works around their academic studies. These jobs are often on campus or they could be off-campus with a local non-profit organization.
We'll discuss each of these options in detail throughout this article, so keep reading to learn more.
How the government helps pay for college
As we mentioned earlier, the federal government offers a few options when it comes to college grants. These grants are different from student loans as they, like scholarships, don't need to be repaid. Typically, government college grants fall into two main categories:
Need-based Grants - These are issued to students dealing with the highest levels of financial hardship when it comes to paying for college.
Merit-based Grants - These are usually related to academic performance, like good grades, as well as other outstanding achievements.
Whether you're looking for a need-based or merit-based grant, seeking out financial aid from the government is a good option for many students. Below are some of the most popular federal student grants which provide college funding that you can apply to your tuition, housing, books, supplies, and other expenses:
Pell Grants
Academic Competitiveness Grant
National Science and Mathematics Access to Retain Talent Grant (SMART)
Federal Supplemental Educational Opportunity Grant (FSEOG)
Teacher Education Assistance for College and Higher Education Grant (TEACH)
There are also some grants which target specific groups in the student community to help them pay their college fees. Some of these include:
Youths in foster care
Veterans or members of the National Guard
Students with disabilities
Students from under-represented groups
How to get a federal student grant
The first port of call when applying for financial aid is the Free Application for Federal Student Aid (FAFSA). This is a standardized form that is used to assess your needs in relation to federal financial aid for college. The assessment will work out the total cost of your college education and estimate your ability to pay the fees.
Student income, parental income, assets, and family size will all be used to calculate your Expected Family Contribution (EFC). This will then be used to determine your expected college financial needs in the form of your Student Aid Report (SAR).
Make sure you're aware of the deadlines for submitting the FAFSA form as you won't be able to apply for financial aid without it. The FAFSA deadline for each academic year is usually 11:59 pm Central Time (CT) on June 30, but make sure to check this for your own academic year.
Each university will provide you with a formal offer letter containing an individual financial aid package which will usually include any government grants.
State student aid
If you aren't eligible for federal student aid, you can still apply to your state for financial aid towards college. To find out more about deadlines and eligibility for state grants, you can contact your state grant agency.
Tax credits
With the American Opportunity Tax Credit, parents can reduce their taxes by up to $2,500 per year per child [2] IRS Tax Benefits for Education https://www.irs.gov/publications/p970/ch02.html after paying for tuition, books, room, board, and fees for college.
A parent can claim this tax credit as long as their modified adjusted gross income is below $90,000 or, if filing jointly, below $180,000.
How to pay for college with no money
With the average cost of college reaching up to $55,800 per year for some private colleges [3] Trends in College Pricing https://research.collegeboard.org/pdf/trends-college-pricing-student-aid-2021.pdf, you might think you don't have a chance if you or your family haven't got any money saved.
But it's not impossible, there are some options you could consider to get help with paying for college when money is tight.
Applying for scholarships
The benefit of a college scholarship is that you don't have to pay the money back. The amount of money you get from a scholarship varies but some will cover the entire cost of your college education.
Students might qualify for college scholarships based on academic achievements, athletics, outstanding skills, being part of specific programs, or demonstrating serious financial need. You'll have to fill out an application, often including an essay, to be considered for a scholarship.
Here are some stats on who receives college scholarships [4] Scholarship Statistics https://www.thinkimpact.com/scholarship-statistics:
7% of students are likely to receive a scholarship
4% of scholarships are awarded to students with a GPA between 3.5 and 4.
30% of scholarships are awarded to students with a GPA between 3.0 and 3.4.
More than 66% of students with above-average SAT and ACT scores are given private scholarships.
Over 33% of private scholarships are awarded to STEM students.
If you are offered a scholarship but it doesn't cover your full college expenses, you could apply for a supplemental student loan to cover the rest.
Applying for government grants
We've already covered the different types of federal student grants you can apply for from the government. Depending on the total cost of your college education, a combination of grants and financial aid could pay for the full cost of attendance.
Work-Study jobs
Federal Work-Study programs are a type of financial aid which allows students to work a part-time job while enrolled in school to pay for their education expenses. You could be eligible if you're a part-time or full-time undergraduate, graduate or a professional student who has financial need.
Students can apply for a work-study program through the FAFSA form. Again, if this doesn't cover the full costs, you could use a student loan to supplement the remaining fees.
Federal student loans
While there are a number of ways to pay for college without loans, in many cases you might need a loan to supplement another form of payment.
A student loan can be used in addition to any of the other options we've mentioned above to cover any leftover costs. However, you can use federal student loans to pay the full cost of your college education. But bear in mind that, unlike grants and scholarships, the money from a student loan will have to be paid back over time with interest.
Private student loans
Another option is to take out a private student loan, but these should really only be used as a last resort. If you need one, make sure to shop around to find a lender with the best borrower protection and interest rates. These loan providers are not regulated in the same way as federal ones, so they won't afford you the same protections and help.
How to pay for college without parents' help
For most students attending college (83%) [1] How Do People Pay For College https://educationdata.org/how-do-people-pay-for-college, their parents will pay towards some of the costs. However, all families are different, and there are a lot of students whose parents aren't in the position to help with college fees.
If this is the case for you, don't worry, all of the options we've mentioned are still available to you including student loans, financial aid, grants, and scholarships. The best thing to do is speak to your parents early and determine whether or not they'll be able to contribute. This way you'll have plenty of time to explore and apply for other options if you need to.
Community or in-state college
Students who go to community college for their first two years and then transfer to a four-year college can save thousands on tuition, particularly if they live at home as well. The average cost of tuition for community colleges as of 2021 is $3,800 compared with $38,070 for private four-year colleges [3] Trends in College Pricing https://research.collegeboard.org/pdf/trends-college-pricing-student-aid-2021.pdf. This saving combined with other forms of financial aid can make the cost much more affordable.
Join the military
Some branches of the US military offer educational benefits. These include paying tuition costs and assistance with loan repayment. There is also the post 9/11 GI bill which pays for tuition and $1,000 per year for books and supplies for those who have served a minimum of 90 days active duty since September 11, 2001.
If you're interested in joining the Army, Air Force, Navy, or National Guard, this might be an option for you to get some help with your college fees.
Work before or during college
Some students take a gap year before starting college so they can take a break, travel, and experience the world before getting back into studying. If you need to make some extra money to pay for college, you could take a year out, get a job and build up some savings towards your college fund.
Having a part-time job while you're in college can also help towards your tuition and college housing, this could be through a work-study program or finding your own job off-campus. Being able to contribute something to your college expenses will help reduce the amount of debt you need to pay back in student loans.
How to pay for housing in college
Paying for room and board in college can be expensive, and on top of your tuition and school supplies, you might be struggling to cover housing costs as well. There are a number of options to consider to try and make your housing more affordable.
Make an appeal to your financial aid award - If the financial aid award you receive in your offer letter doesn't cover your housing expenses, consider making an appeal. You'll have to demonstrate evidence for your financial hardship, and in some cases, the school might be able to provide more financial aid.
Room and board scholarship - Many colleges offer housing assistance to students via room and board scholarships. If your university has a Housing Assistance office, you can contact them to discuss affordable housing and grants or scholarships for housing.
Campus-owned apartments - A lot of campus-owned apartments allow students to pay for their accommodation monthly, rather than the typical lump sum for a semester. This can help you spread the cost, and if you have a part-time job it can make these expenses much more affordable.
Private student loans - If your financial aid package is not enough to cover your housing, you could consider a private student loan if you've exhausted other options. Be aware though that private loans are not government regulated and private lenders do not have to offer repayment assistance programs.
Research and apply early - Usually if you apply early for college housing you'll have more options when it comes to accommodations. Be sure to do some research on the benefits of living on or off-campus to see what will be most affordable for you.
Resources and advice
There are a wide variety of resources available for students and parents to get advice on paying for college. Whether you're unsure about loan repayments, want to know how to save money on school supplies or where to get the best value textbooks, you can find specialist information and help.
Resources if you're struggling to pay a student loan
It's important to be organized when it comes to paying off your student loan, whether you're still in school or you've already graduated. If you don't complete your loan repayments on time this can affect your credit score. Usually, once you finish school, you'll have a 'grace period' to give you time to get financially settled before you start paying back your loan.
If you do need help paying a student loan, there are lots of resources you can use to get advice and information:
Saving money on college textbooks and equipment
When it comes to paying for college, it's not just tuition and housing you need to think about. There are all of the textbooks, equipment, stationery, and extras you'll need to complete your studies. If you're looking for ways to cut the costs of these essential items, check out some of our top tips.
For supplies other than textbooks, there are a few ways you can save some money. Check your local dollar store for items like notebooks, pens, pencils, and folders. Stationery items don't need to be expensive, budget options will work just as well and save you money. You could also buy a refurbished or second-hand laptop so you don't have to shell out for a brand new one.
Tips from a college finance expert
We asked Melanie Hanson, Editor in Chief at Educationdata.org to give us some of her top tips on budgeting for college and making the whole process more affordable.
1. What advice would you give to students wondering how to pay for college?
You really need to focus on getting a degree and making sure it's the right decision for you. This means putting careful thought into your course of study with future employment prospects in mind, and it means prioritizing low tuition over the prestige of your school in most cases.
You can do much more to distinguish yourself by being an excellent student at an ordinary school than the other way around.
2. Can you give any tips on how to make college more affordable?
Aim to graduate as quickly as possible. Since most universities charge a flat tuition fee for a "full load" of credits (anywhere between 12 and 18 credits in a standard semester), students can get their money's worth by aiming for that 18 number as much as possible.
3. What kind of financial support do colleges offer students?
Most financial support for students is handled by organizations outside of colleges, such as governments, banks, and charitable organizations. Many universities do offer a limited number of scholarships and grants, but the vast majority of students are going to need financial help from outside the university itself in order to pay for tuition.
4. Do you have any budgeting tips for students in college or applying for college?
Make sure you're taking advantage of all of the services that your university offers. This includes things like room and board, but also medical care, recreational activities, tutoring, advising, and other activities. You're paying for all of this with your tuition. Use it.
More options to consider
We've covered a lot of ways that you can save money and get assistance with paying for college, here are some additional tips that could help you save up or pay less.
529 savings plan - A 529 plan is a type of investment account, primarily used to save for college expenses. Your initial investment and all following earnings can be used for qualified college expenses like tuition, room, board, and books without having to pay any taxes. In most cases, you can open a 529 account with just $25.

[5]

Saving For College with a 529 Plan https://www.edmit.me/blog/saving-for-college-start-with-a-529-plan
Take AP courses - Getting high scores on AP exams can help reduce the overall cost of your college tuition. A lot of colleges will award college credits for high AP exam scores

[6]

Ways To Pay Less For College https://www.princetonreview.com/college-advice/paying-for-college-tips, so it's a good idea to prepare well for these exams.
Research and apply for aid early - Students who know their options and apply for financial aid early will have a better chance of receiving the support they need than those who are unprepared or miss the deadlines.
Don't rule out expensive colleges - While it might seem like a good idea to focus on more affordable schools, private colleges will offer considerable financial aid to students that they are keen to enroll. So if you can demonstrate excellent grades, athletic ability, or other desirable skills, you might have a better chance than you thought.
Summary
So there you have it, affording college can be difficult but there are a number of options available to help you. Whether you get a full or partial scholarship, receive a federal grant, or have financial support from family, there are ways to manage the costs.
Do your research and make sure you're aware of your options when you apply. Start with filling out your FAFSA form to see what kind of support is available to you through financial aid.
Sources