Money
Americans' Mental Health and Personal Spending Report 2020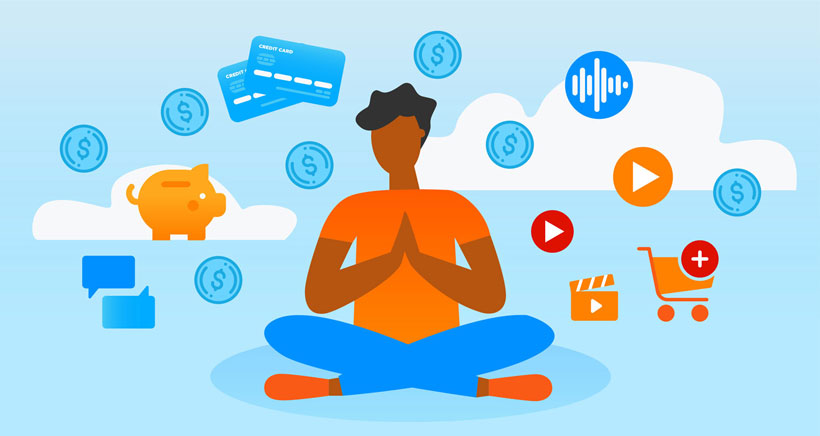 Figures from the National Institute of Mental Health show that roughly 1 in 5 Americans suffer from some form of mental health issues, this number rises to over a quarter in those aged 18-25. Many suffer silently, therefore the figure could sadly be vastly higher.
In the US, mental health accounts for 5.5% of health spending. We wanted to learn what individuals spend on mental wellbeing for themselves, and what people prioritize their spending on to stay healthy, both directly and indirectly.
The following are some of the key statistics we uncovered from our research of 1,066 Americans. Full findings can be found below.
Key Statistics on Mental Wellbeing and Finances
COVID-19 and Financial Mental Wellbeing
Direct cost of mental health
We asked our respondents to discuss the amount they spend on direct and indirect methods that help with their mental health. The following is a breakdown of which direct methods people have used to improve their mental wellbeing: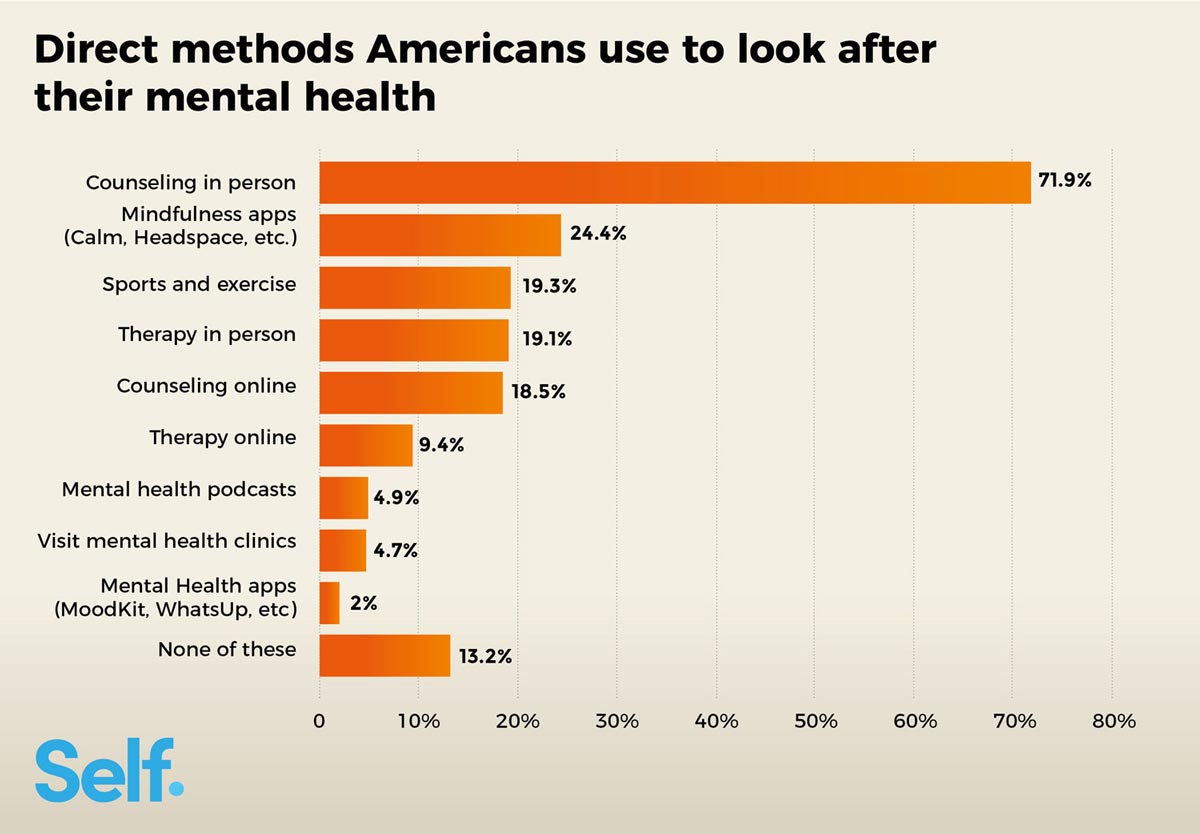 The majority (71.9%) had tried counseling at some point, with almost a quarter (24.4%) using mindfulness apps to improve their mental health through things like guided meditation and self reflection alongside a range of techniques. The average amount spent on these apps was found to be $7.30 per month, with apps like Headspace costing $13 a month, and Calm at $6/month. These apps are gaining popularity each year, with Calm releasing a viral collaboration with One Direction's Harry Styles in the middle of 2020.
Respondents also revealed that the average amount spent each month on therapy and/or counseling, was $147.70. When asked how much was spent on physical wellbeing each month, the average amount was found to be $103.10, accounting for things like gym memberships, supplements and personal trainers.
Indirect cost of mental health
While doctors recommend therapy, counseling and exercise, many find their mental health improves with various 'indirect' methods. We asked our panel which methods they used for the goal of assisting their mental health. The following is what we found: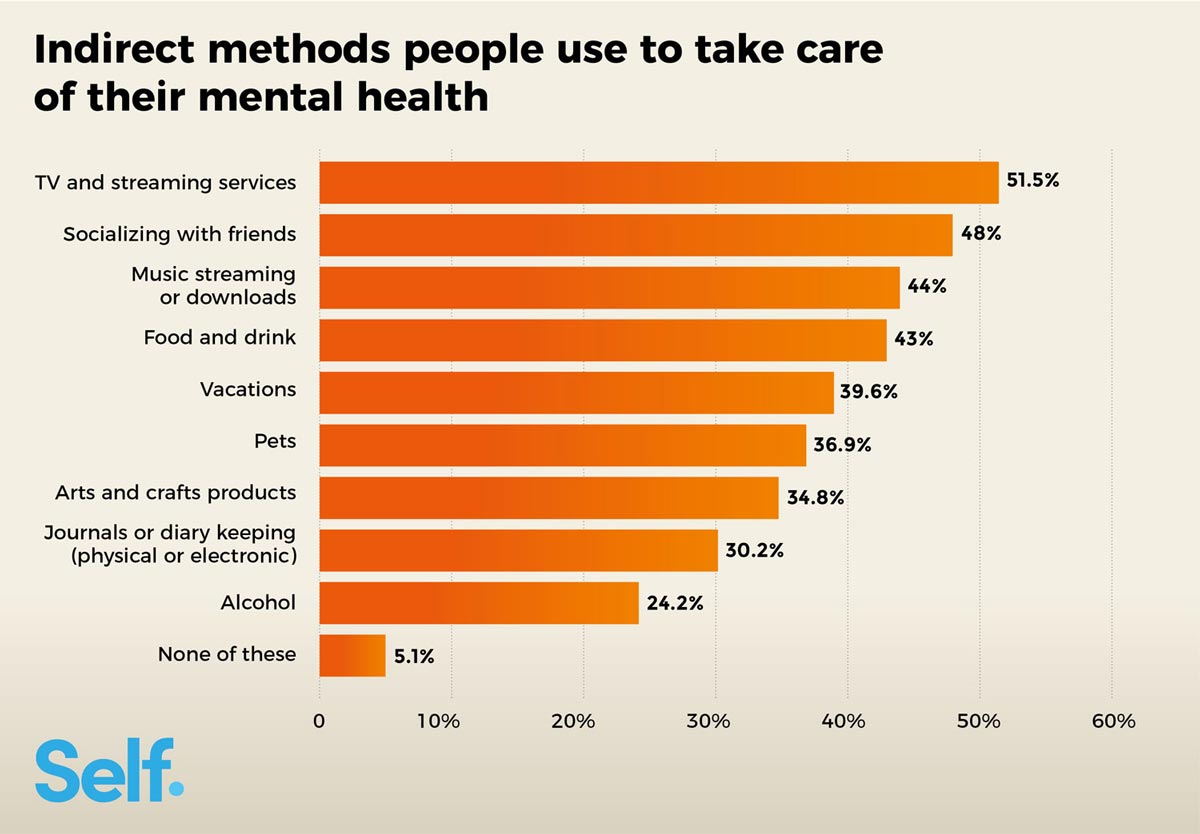 Cable TV and streaming services like Netflix and Disney+ are the most used (51.6%) indirect method to take care of mental health, followed by socializing with friends (48%) and music (44%). While alcohol may have the smallest majority, it still amounts to a quarter of respondents stating they use alcohol as a means of helping with their mental health.
When asked how much people spend on average for these indirect items, respondents stated $132.60 on average. This was separate to the $1074.90 average that respondents claimed they spend on vacations. This average cost here should be understood as any vacation length, for example, a long weekend or a full week away could be at either end of the scale.
Taking care of your mental health costs $287 a month
Where did this figure come from? The average of $287 a month is made up of a mix of spending on things that directly impact your mental health and indirectly improve your wellbeing according to our respondents.
This is not inclusive of monthly medicine bills ($81.70) or physical health payments, like gym memberships, exercise gear, or supplements, for example ($103.10).
If you were to add direct costs, indirect costs, physical health and medicinal costs, the monthly spend on mental health for the average of American could be anywhere up to $471.80.
The below chart shows the budget split for someone who engaged with all aspects of mental health spending: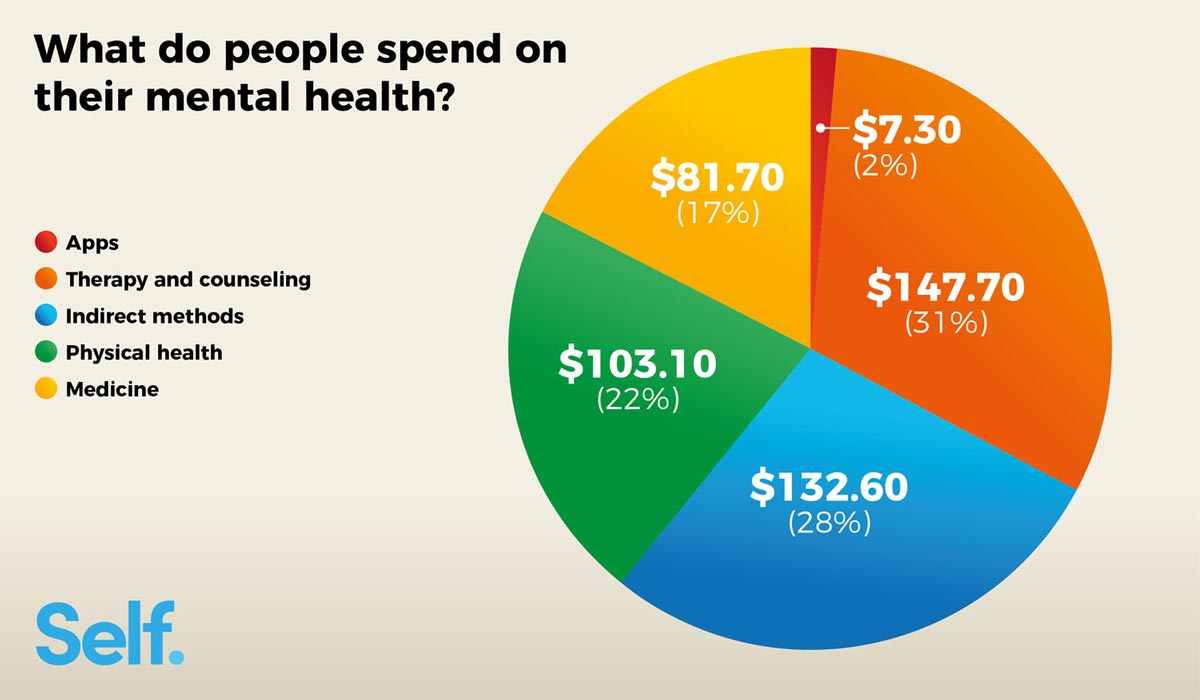 The cost of therapy
With Americans spending almost $150 per month on therapy or counseling, we wanted to find out how this fits into a wider public understanding of therapy. We asked our respondents if therapy was cheaper, would they pay for it and undertake therapy sessions on a regular basis. 3 in 5 said that they would, indicating there is the desire for such services but typically high prices put people off from prioritizing their mental health.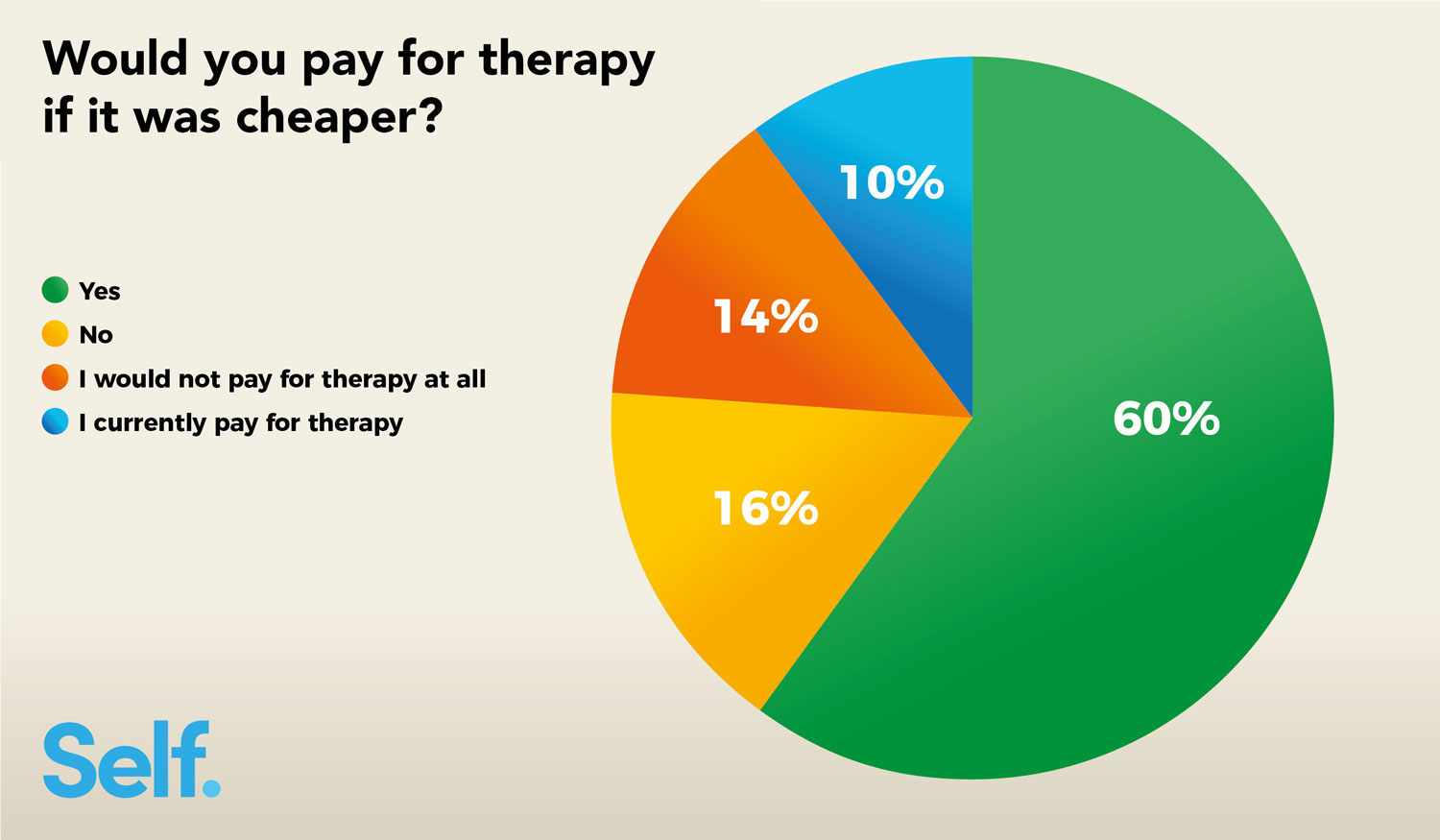 Of those who would, or already use therapy, there was an agreement that one hour of therapy is worth around $60 from over 1,000 responses. Research suggests that therapy is on average, $75-$150 an hour across the US. With that in mind, therapists with lower rates may not be as out of reach to the average consumer as many may think. With reduced costs of online therapy providers, which only 9% of our respondents said they had tried, there may be an option here many are not aware of.
Emotional spending statistics
Emotional spending can take various forms, but it generally tends to be when we are feeling stressed or unhappy and we buy things we don't need or even want.
We asked our respondents if they engage in any habits which would fall under the spectrum of emotional spending to discover how often people's feelings intertwine with their financial wellbeing.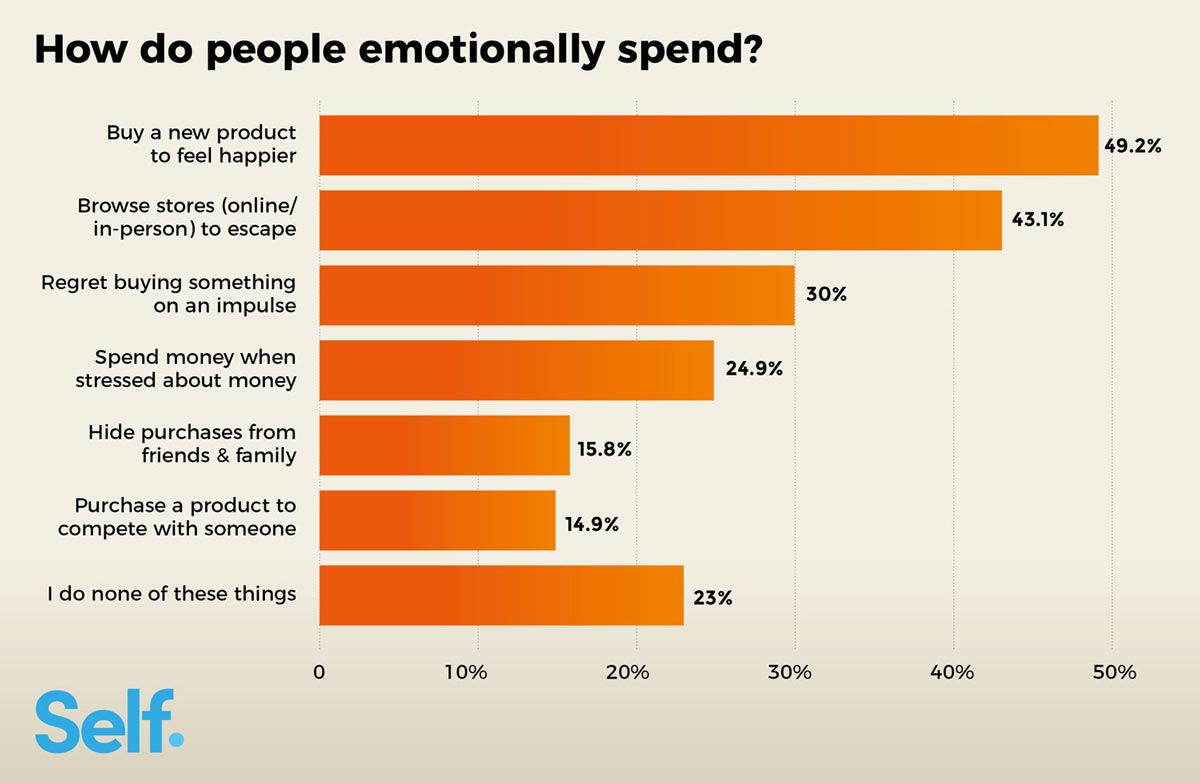 77% of our respondents said they emotionally spend in some capacity, with the majority (49%) saying they buy products they don't need purely to feel happier. The second most frequent (43.1%) behavior associated with emotional spending was browsing stores as a means of escapism, followed by feelings of regret on impulse purchases (30%). Emotional spending can take other forms, but these are some of the most common.
When asked how much people spend on purchases of this type, we found the average was $114.32. If the average person emotionally spent once a week, this would amount to just under $6,000 each year!
Financial stress and mental health
People have their own ways of dealing with finances in a bid to ensure they take care of their mental health. Naturally, this can take a variety of forms. We took some of the most popular mechanisms consumers use to manage their financial wellbeing and asked our respondents which they use regularly.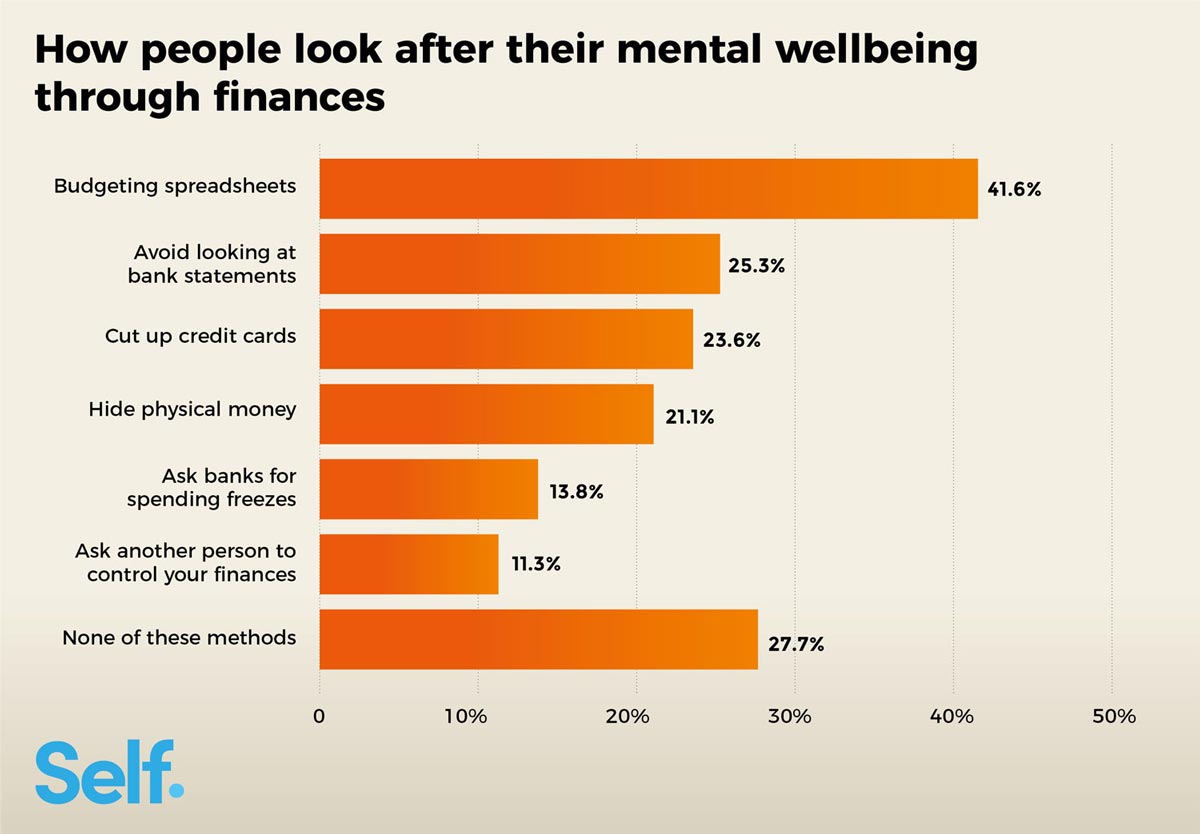 Overall, the most simple and effective method was the most popular, with 41.6% of people using budgeting spreadsheets to assist with their mental health. This was followed by a quarter of people avoiding looking at bank statements, and 23.6% cutting up their credit cards to prevent them from spending on them. Over 1 in 5 choose to hide notes and coins away in a bid to forget about them and save.
Our Accredited Financial Counselor, Lauren Bringle Jackson, has the following three tips people should use to find some small ways to improve their financial wellbeing.
Recruit a community to encourage and hold you accountable along the way when tackling your debt head on. Just like you might have a more successful physical fitness journey if you have a workout buddy, or a more successful mental wellness journey with the support of a counselor, you'll probably have a more successful financial health journey with the support and guidance of others too.

Make a list of last month's expenses. Separate that list into needs, like food, shelter and basic transportation, and wants, like subscriptions, eating out, etc. Look over everything on your "wants" list and notice if anything surprises you, and if you're spending money on things you don't truly want or need.

When it comes to saving money on food, the best place to start grocery shopping is in your pantry at home. People generally have much more food shoved in the back of the pantry than they realize. By getting creative with what you already have, and Googling some recipes based on those ingredients, you might be surprised how much longer you can wait until you need to go to the grocery store.
Mental health problems due to finances
Over 1 in 5 (22%) said they do not face money worries, but for the majority who do, there are potential health problems. Over half (52.6%) said they face anxiety due to financial stress, with 2 in 5 (40.7%) saying they have faced depression, and over a third (34.1%) have struggled with insomnia as a direct result of money worries. The full results can be found in the chart below.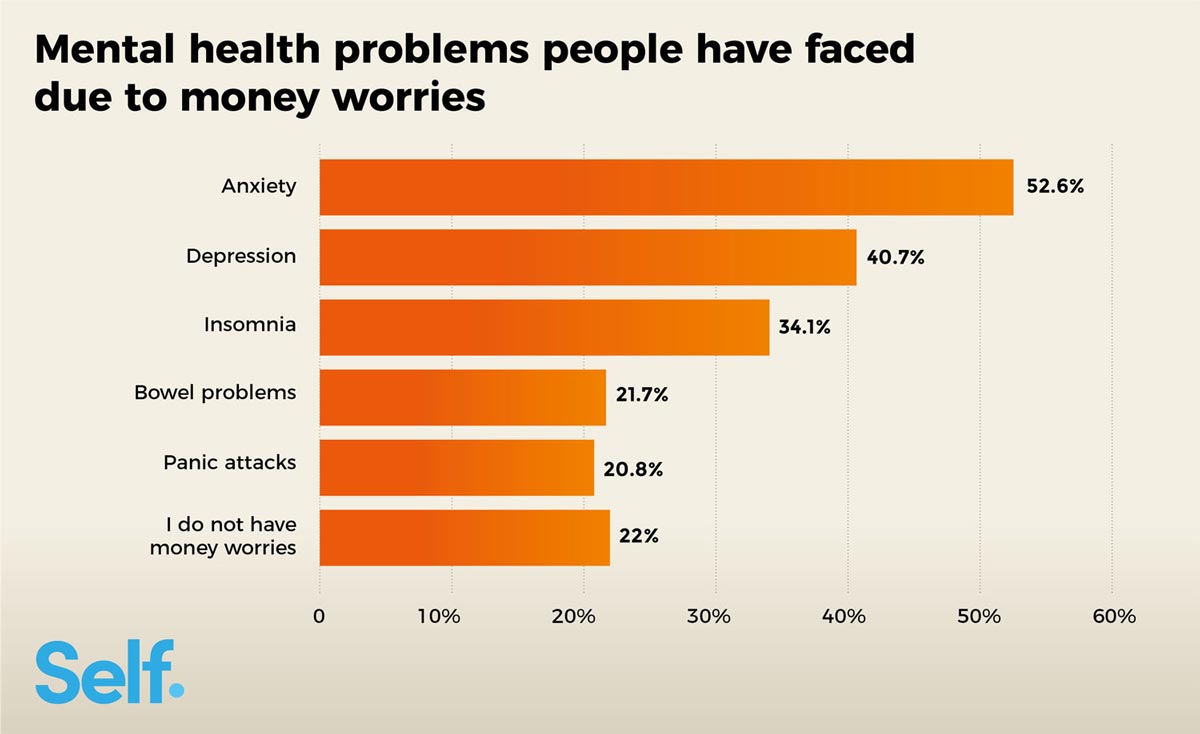 How much money makes you happy?
Alongside this, we asked all of our respondents how much they would need to earn personally, to be mentally and financially comfortable. Everyone's position is going to be unique across the US, however, we discovered that the average person would need to earn $51,111 to 'be comfortable and mentally positive'. According to the Bureau for Labor Statistics, the average American earns $48,672, indicating the majority don't earn enough to suit the needs of their mental health.
Wellbeing, finances, and COVID-19
Whilst we asked our respondents to consider previous questions in relation to their life pre-pandemic, we also wanted to assess the impact coronavirus has had on their financial and mental wellbeing. Over half (52.5%) said their mental health had got 'worse' or 'much worse' due to COVID-19's affect on their finances. On the other hand, 1 in 10 (10.7%) said their mental health had improved in some way due to their current financial situation.
We asked our respondents if they had spent any money during lockdown, purely for purchases to improve their mental health. Only 1 in 3 (32.8%) said they had done this, and of this group, the average amount spent to improve their mental wellbeing during the pandemic was $98.29.
What improved mental health during lockdown?
We asked our respondents to choose from a range of direct and indirect methods to improve mental wellbeing and state which had the largest positive impact during lockdown. Sports and exercise became the largest contributor to looking after mental health, followed by pets and socializing. 13% of respondents said that alcohol was one of the biggest reasons for mental health improvement during the self isolation period.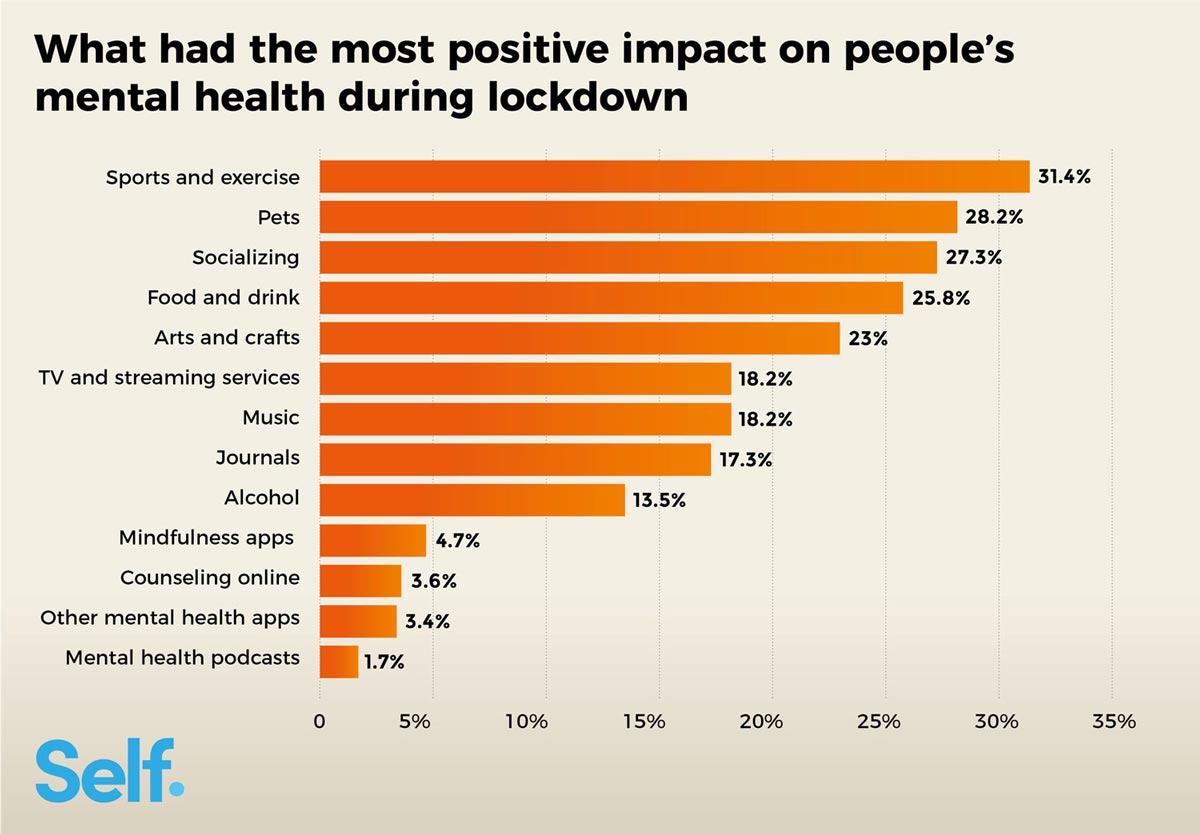 The Zoom revolution
Zoom quizzes were a huge part of lockdown around the world. Video calling has boomed allowing friends and families to socialize whilst isolating. With this in mind, and how 27% of our respondents said that socializing had one of the biggest impacts on their mental wellbeing during lockdown, we asked how much people had spent on technology to enable them to get involved in the Zoom revolution. Of the 30% that said they did spend money on video conferencing tech, the average spend was $109.82.
Life after lockdown
81.3% of people said that their mental health will definitely improve after the pandemic is over. With that, we asked if people were saving money for a dedicated post-pandemic celebration fund: 2 out 3 (68%) were. When asked how much this group was planning on spending to celebrate the end of coronavirus, the average total came to $264.79.
Demographic breakdown
1,066 Americans from across the states, with a range of financial backgrounds, were polled using Amazon's survey platform from 29th June to 4th July on a range of questions about their financial and mental wellbeing. The full breakdown of respondents is discussed below.
When asked what gender our respondents identified as, the breakdown was as follows:
Female (53.2%)
Male (46.5%)
Other (0.3%)
Respondents were made up of a range of ages from 18-65+, the full breakdown is as follows:
18-24 (12.38%)
25-34 (38.09%)
35-44 (25.52%)
45-54 (14.17%)
55-64 (6.19%)
65+ (3.66%)
The following is a breakdown of the financial status of our respondents' households.
$0-$9,999 (10.6%)
$10,000-$19,999 (11.82%)
$20,000-$29,999 (13.41%)
$30,000-$39,999 (12.29%)
$40,000-$49,999 (11.097%)
$50,000-$59,999 (11.82%)
$60,000-$69,999 (5.53%)
$70,000-$79,999 (9.47%)
$80,000-$89,000 (5.16%)
$90,000 or more (8.82%)