Money
Personal Spending Habits during COVID-19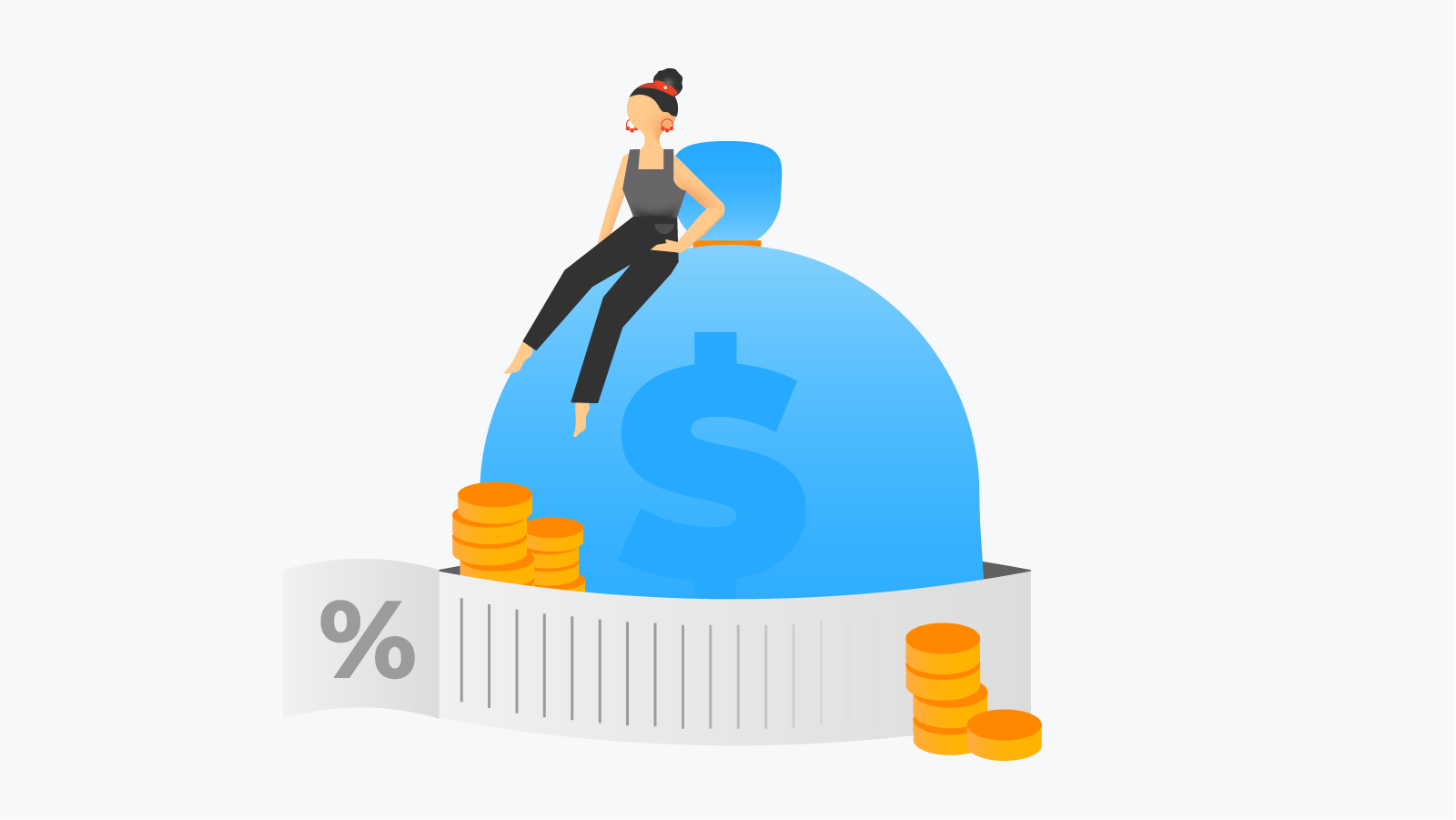 COVID-19 has forced us to re-evaluate many areas of our lives. We spoke to everyday people to find out just how they are spending cash during this time and what their current habits look like with cooking, employment, and the now-challenging task of grocery shopping.
To discover these key insights into people's challenges and expectations at this time, we surveyed over 1,300 people across all ages to find out what's going on right now.
Don't forget we have previously examined another COVID-19 challenge; the ever growing list of Coronavirus scams which we will keep updated throughout this crisis.
People are experimenting in the kitchen
1 in 3 are learning to cook during lockdown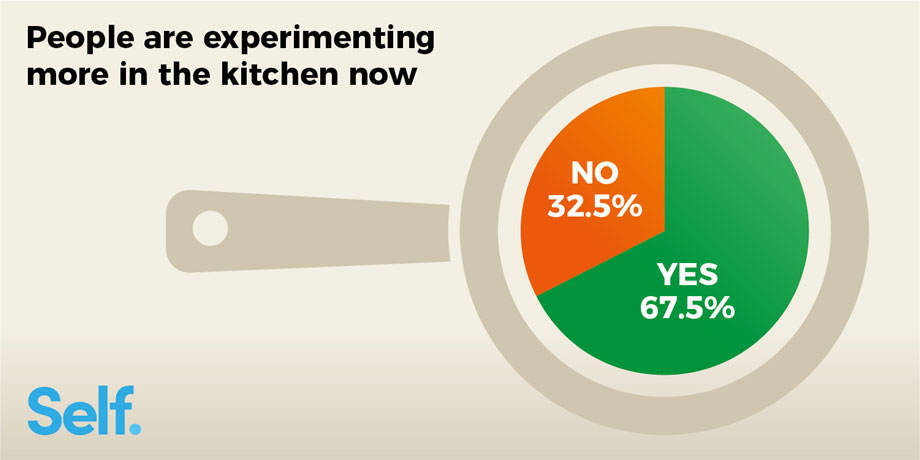 Over two thirds of us are using this time to experiment more in the kitchen and learning to cook. With lockdown forcing us to stay at home, it's no surprise. When you look further at the data you find that women are much more likely to be experimenting in the kitchen than men, with 62% of female respondents using this time to cook creatively compared to 37% of men. This follows recent data from the Bureau of Labor Statistics which found women were spending far more time in the kitchen and doing household chores than men in their house.
Food is being rationed during lockdown
1 in 4 are eating less food in order to ration supplies during lockdown
As grocery stores become busy and a potential hazard for catching the virus, it seems many of us are rationing our food supplies to prevent repeat trips to the store and save money. Due to having more time at home however, 1 in 5 (19%) revealed that they are actually eating more food now. This coupled with the fact that many of us are experimenting in the kitchen could mean more food is being purchased and consumed while we try out new recipes and methods.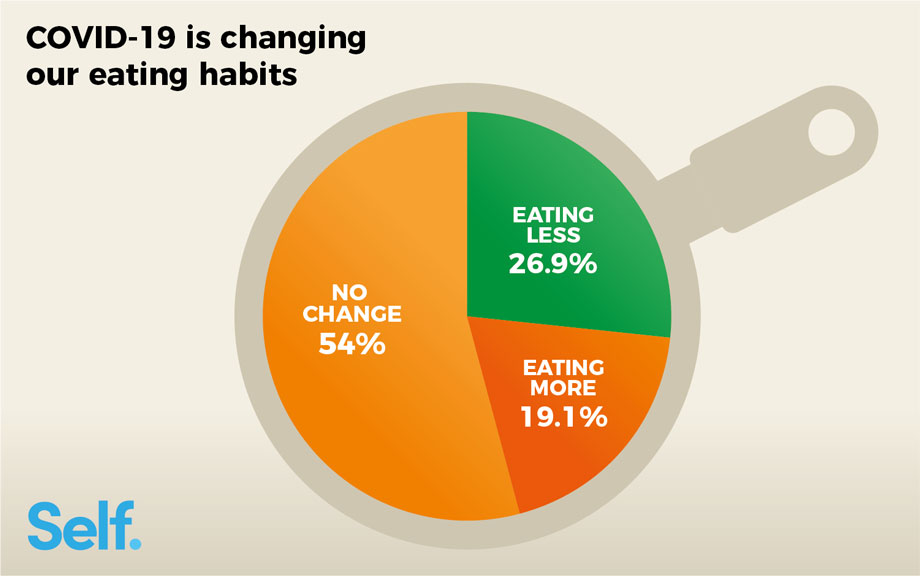 People are eating more veggies
23% eating more plant-based meals due to COVID-19
With rationing, it's often easier and cheaper to store canned and frozen vegetables. Almost a quarter (23%) of those surveyed revealed they were eating more vegetarian and vegan meals due to the pandemic. PETA has highlighted the link between animal agriculture and the virus which could be encouraging people to try more plant-based meals. According to our research, this view may coincide with people experimenting more in the kitchen, and trying meals without meat will provide some popular alternative recipes.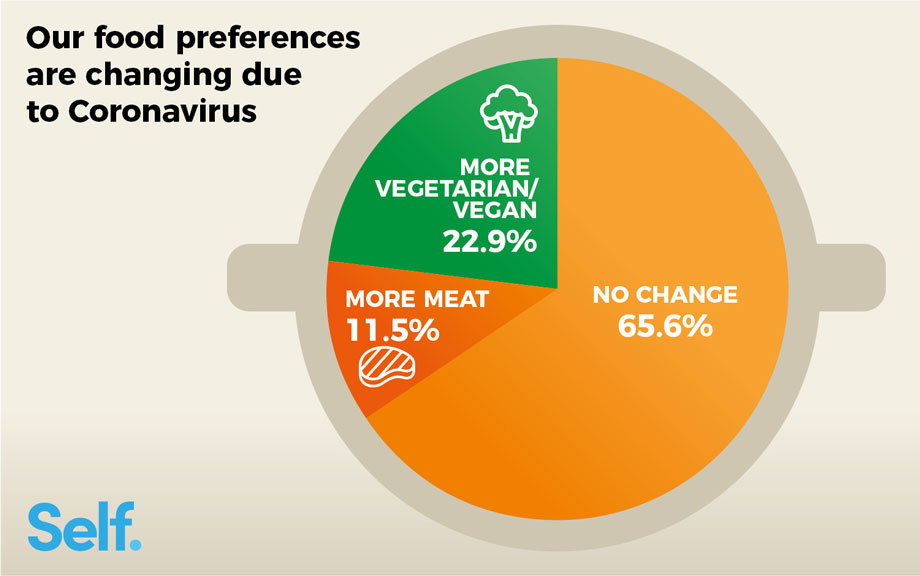 Interestingly, those aged 18-24 (29%) were the largest age group to engage with more plant-based foods during the pandemic, followed by those aged 55-64 (24%), both being higher than the national average.
Lockdown is encouraging junk food binges
1 in 3 are binge eating junk food due to lockdown
With many looking towards plant-based meals, it may suggest that we're eating healthier. Of those surveyed, 31% said they are now opting for healthier meals thanks to the time given by COVID-19 lockdown measures. However, slightly more (32%) of those we asked said they were actually eating more junk food due to COVID-19 quarantine measures.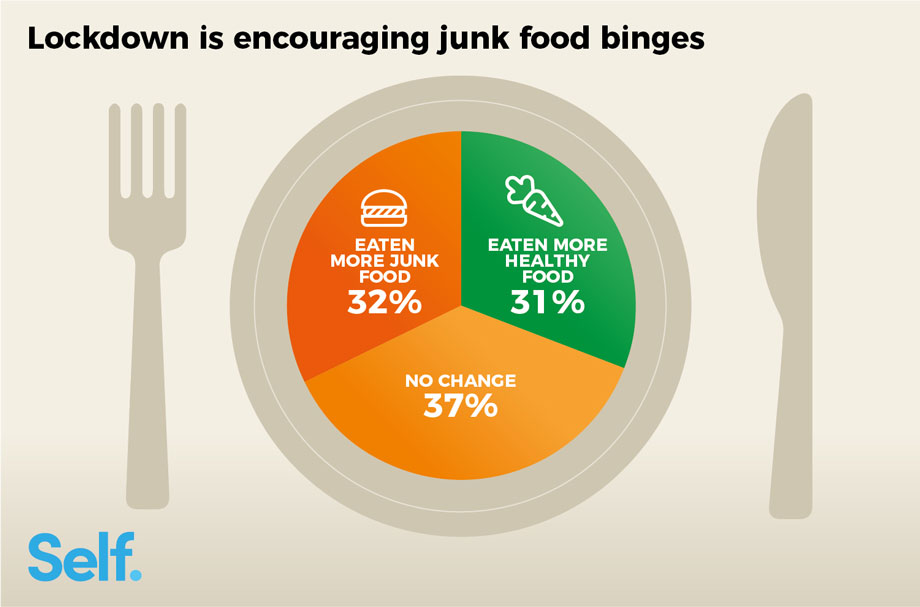 When looking at this data split by gender, we see that women are eating more junk food than men, and men are eating more healthy options than women. Whichever way we change our eating habits, it's clear that 2 out of 3 are changing choices in the kitchen, either for a candy bar, or an apple.
Grocery shopping spending is increasing
1 in 4 are now spending up to 133% extra a month on groceries
With that in mind, we wanted to find out what people were spending on groceries now our kitchen habits have changed so drastically. From the 1,340 people we surveyed, the common average amount being spent per week was $69 extra due to COVID-19. Previous figures show that the average American spends $86 a week on food at home, this means that there is an 80% increase from the previous average, to the new Coronavirus grocery average spend, which now sits at $155 a week.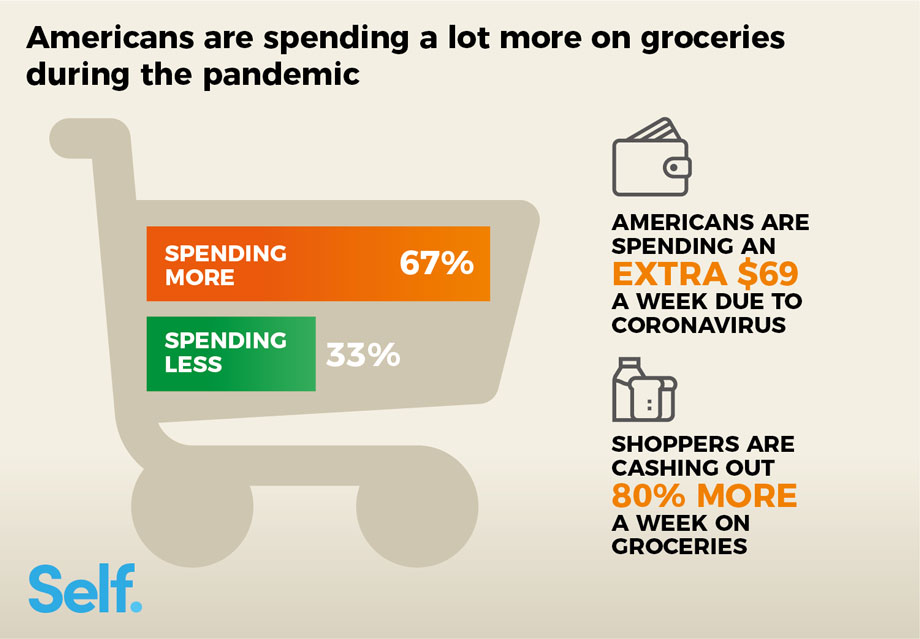 In addition, 24% told us they were now spending between $100-$200 extra a week on grocery store shopping. Interestingly, 33% of respondents said they were now actually spending less due to Coronavirus measures taken. This could be due to some avoiding grocery stores or simply taking this time to only stock up on essentials, leaving luxuries to keep finances under stringent control.
Shoppers want to boycott bad businesses
2 in 5 shoppers will boycott businesses who did not act responsibly during COVID-19
Whilst we know that people are spending much more on their weekly shopping, we wanted to find out if people cared about the stance businesses have taken during this crisis. We asked our respondents if they plan to boycott businesses after the pandemic who have not acted responsibly at this time. According to our data, 2 in 5 shoppers will actively boycott businesses due to their poor actions in the pandemic, such as not supporting employees or putting adequate social distancing measures in place. The highest proportion of those ready to boycott bad businesses came from the 18-24 age bracket at 42%. Currently, some shoppers have taken action against Target's delivery platform and more acts may follow once the pandemic is over.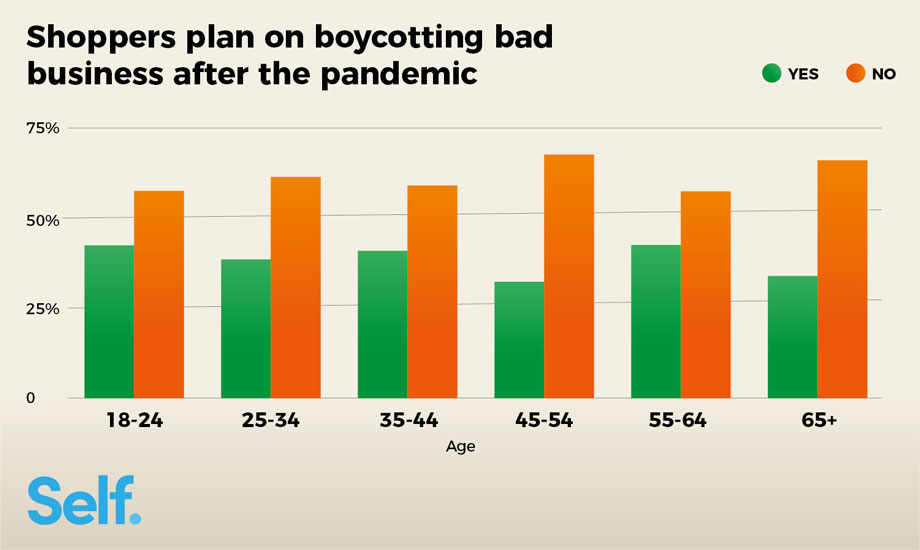 People are starting side hustles
Over half of Americans are starting a side hustle due to Coronavirus
With many being furloughed or laid off, a lot of people are now hunting for new employment or taking this time to work on hobbies and side hustles. We found that over half (54%) of those asked plan to start a side hustle to earn an extra income due to COVID-19.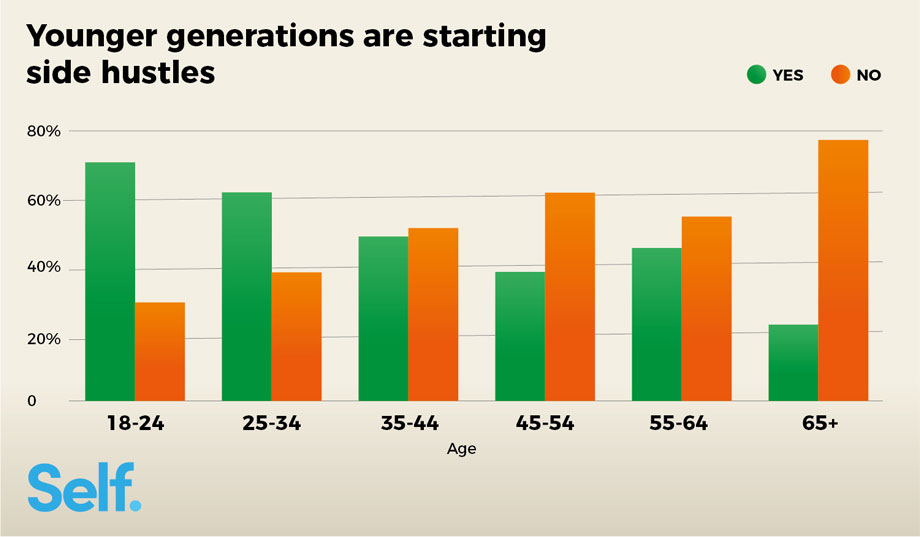 Age is a huge determining factor here as 18-24 year olds were the largest category to start side hustles at 70%, followed by Millennials (25-34 year olds) at 62%. Those aged 65+ however, were vastly against starting a side hustle with a staggering 77% saying they don't intend to look at a side hustle as an option. The graph below highlights the age difference too, with a general trend of older people less interested in side hustles.
People are looking to change jobs
In addition to side hustles, we discovered that 30% of respondents plan on changing their job after the pandemic.
1 in 5 are leaving jobs as employers have not offered enough COVID-19 support
We also wanted to find out exactly why almost a third of those surveyed were looking for new employment opportunities after the pandemic. The below table discusses the exact reasons mentioned by the 30% of respondents who were looking for new jobs.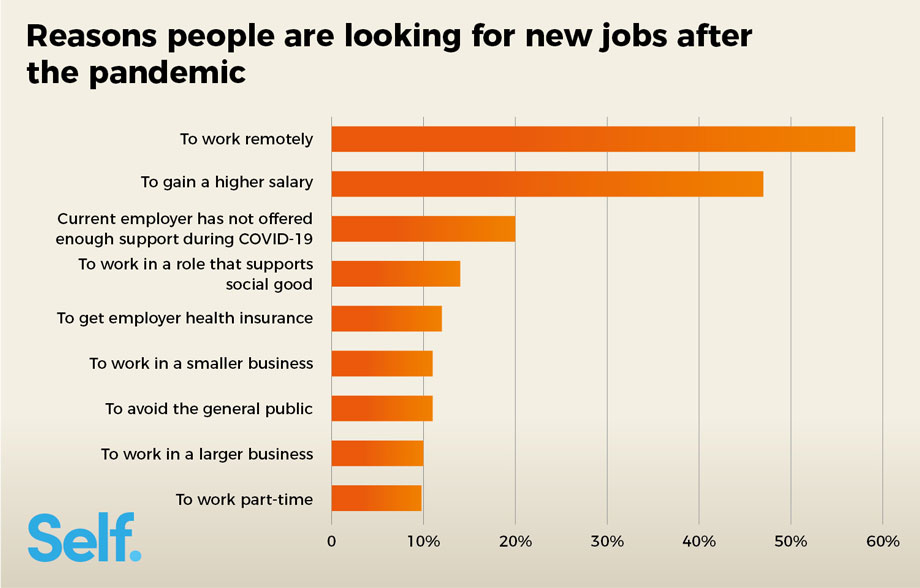 The largest reasons by far were quitting their job to get a new opportunity that allowed remote working (57%) and gaining a higher salary (47%). The third highest reason behind those was that people were planning on leaving their current employer due to the lack of support they offered during the pandemic.
With remote work becoming a part of normal life due to global quarantine measures, it's not surprising that 57% of those looking for new jobs are specifically searching for remote roles. Employers have now shown that they are capable of offering this to their staff and that it works in practice too. We expect many will want remote working opportunities in 2020.
With regards to the pandemic, a surprising 1 in 10 also stated that they wished to avoid crowds and public transport so would be seeking new employment, indicating an anxiety with life returning to normal post-pandemic.
How are people going to cope financially in the long-term?
1 in 10 can only last a week if they lose their job during COVID-19 pandemic
With worries of grocery goods and employment opportunities changing frequently, we asked our respondents how long they could cope if they were to lose their job. According to our data, unemployment has the potential to push 1 in 5 (21.4%) into hard times in just 2 weeks.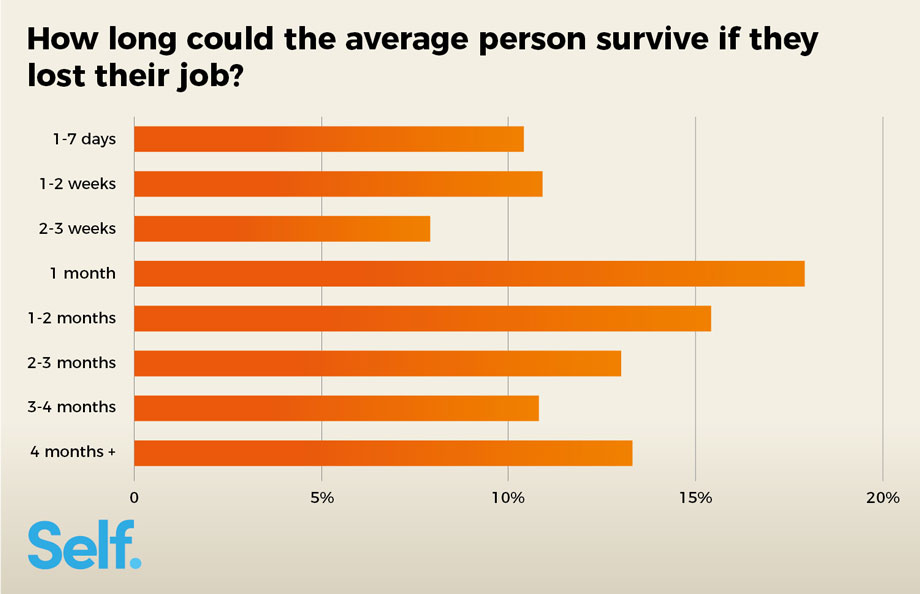 People are saving for the next pandemic
Over half of public is saving for a future pandemic
As the modern world has not faced anything like Coronavirus on this scale before, many were not prepared. Now that we have been exposed to this concept, we asked our respondents if they were now saving for a future pandemic, and 51% said they were.
Breaking this down by age, you can see that the highest portion of pandemic-savers (57%) are 18-24 year olds. Across our data, more people saving for a pandemic correlates with being younger. This is unsurprising as younger people will statistically face more pandemic situations in their lifetimes.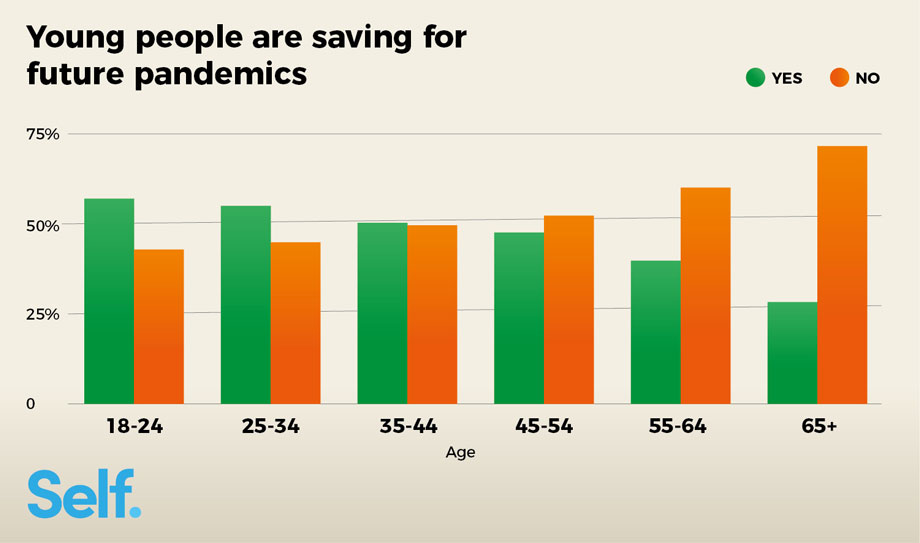 A quarter of people are saving $1500-$2500 for a future pandemic
We also asked these savers how much they are exactly saving, or planning to save, for this future pandemic. 1 in 5 savers are aiming to have $550 in the bank dedicated to a future pandemic. While almost a quarter (24%) plan to save between $1500-$2500.