HEADLINE FINDINGS
How are the stimulus checks being used?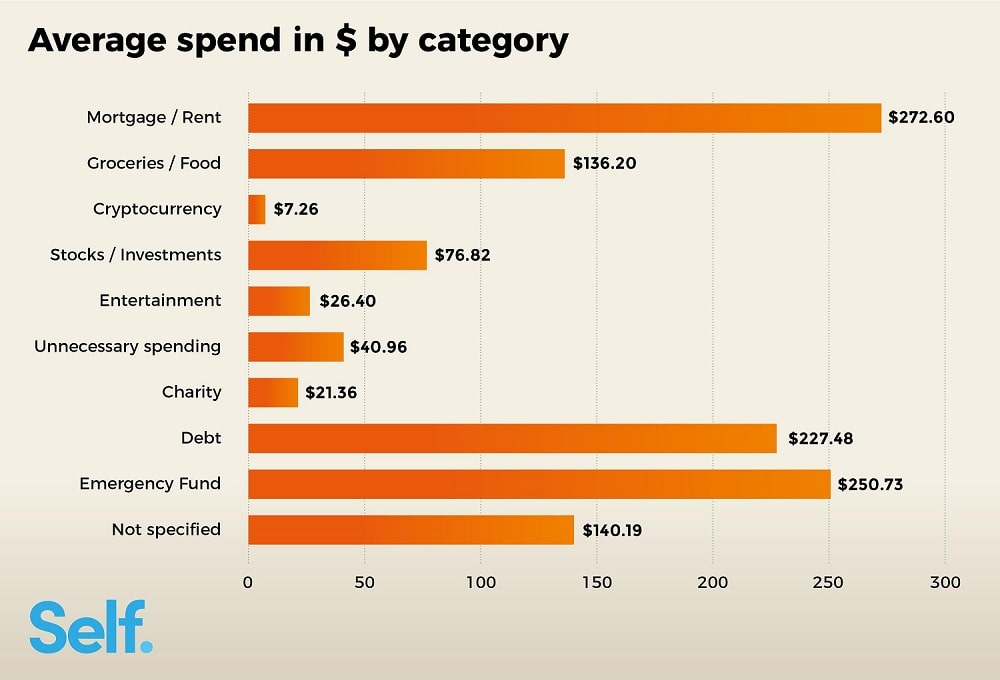 When it comes to what Americans will be spending their stimulus checks on, there are some surprising results. The obvious temptation during lockdown to go on a frivolous spending spree doesn't seem to be the case for most, with rent/mortgage payments being the most common outgoing at an average of almost $272.60 per individual.
And for almost 1 in 4 (23%), at least half of their stimulus check will go towards paying a mortgage or rent, while 7% of respondents will use the full $1200.
Evidence suggests, meanwhile, that many will use this time to pay off existing debts ($227.48), while a number of respondents appear to be particularly budget-conscious, deciding to put aside almost a quarter of the check ($250.73) into an emergency fund.
$1.08 billion to be moved to cryptocurrencies with Bitcoin leading the charge
Popular platform Coinbase has reported that since deliveries of stimulus checks began, there's a near 200% rise in the number of exactly $1200 transactions. Our data revealed the average American receiving a check will be putting $7.26 into cryptocurrency assets overall. Across the 150 million checks expected to be delivered in this first phase of consumer stimulus, that totals $1.09 billion moving into digital currencies.
When users were asked which cryptocurrency they would be putting their money into, 70% opted for Bitcoin (4% for Ethereum). This means that $762 million has or will be moving into Bitcoin alone as part of the package ($43.6m into Ethereum).
18% are set to invest $427 on average into the stock market
Although the majority of people are and will be using their stimulus money on essential costs and emergency funds, 18% of people will also be using at least some of their $1200 check to invest in the stock market.
In total, this means that $11.5 billion of the initial $290 billion earmarked for consumers in the stimulus package, or 4%, will actually find its way back into the markets.
Spending changes per generation
The survey also found some interesting differences between generations, with a clear trend towards saving and putting money into an emergency fund among older individuals compared to younger respondents.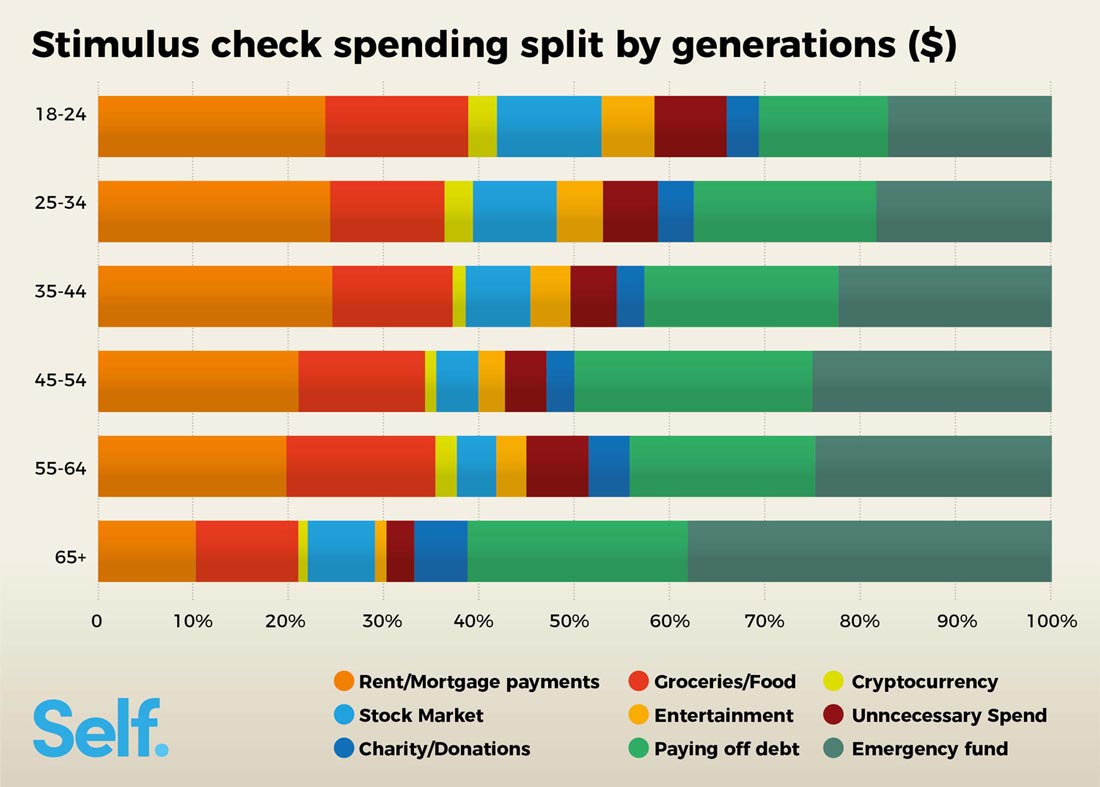 Perhaps unsurprisingly, rent and mortgage payments also take a heavier chunk of the check for those aged between 18-34, suggesting that younger generations are finding the cost of living particularly difficult during the pandemic.
Are the stimulus checks worthwhile?
Almost three-quarters of respondents (71%) have welcomed the introduction of stimulus checks and stated they were needed to help them pay their bills. This percentage is largely consistent across all generations, suggesting that the checks are having a positive impact for people of all ages.
Markedly and perhaps unsurprisingly, the response to the checks closely corresponds to the personal income of our survey's respondents. For those with an annual income of $10,000 or less, 88% said that the checks were needed, while this figure remained well above the overall average at 84% for those earning between $10,000 - $50,000.
In comparison, just over half (50.4%) of those earning $50,000 or more said that they felt the stimulus checks were needed to support their personal income.
Is $1200 enough?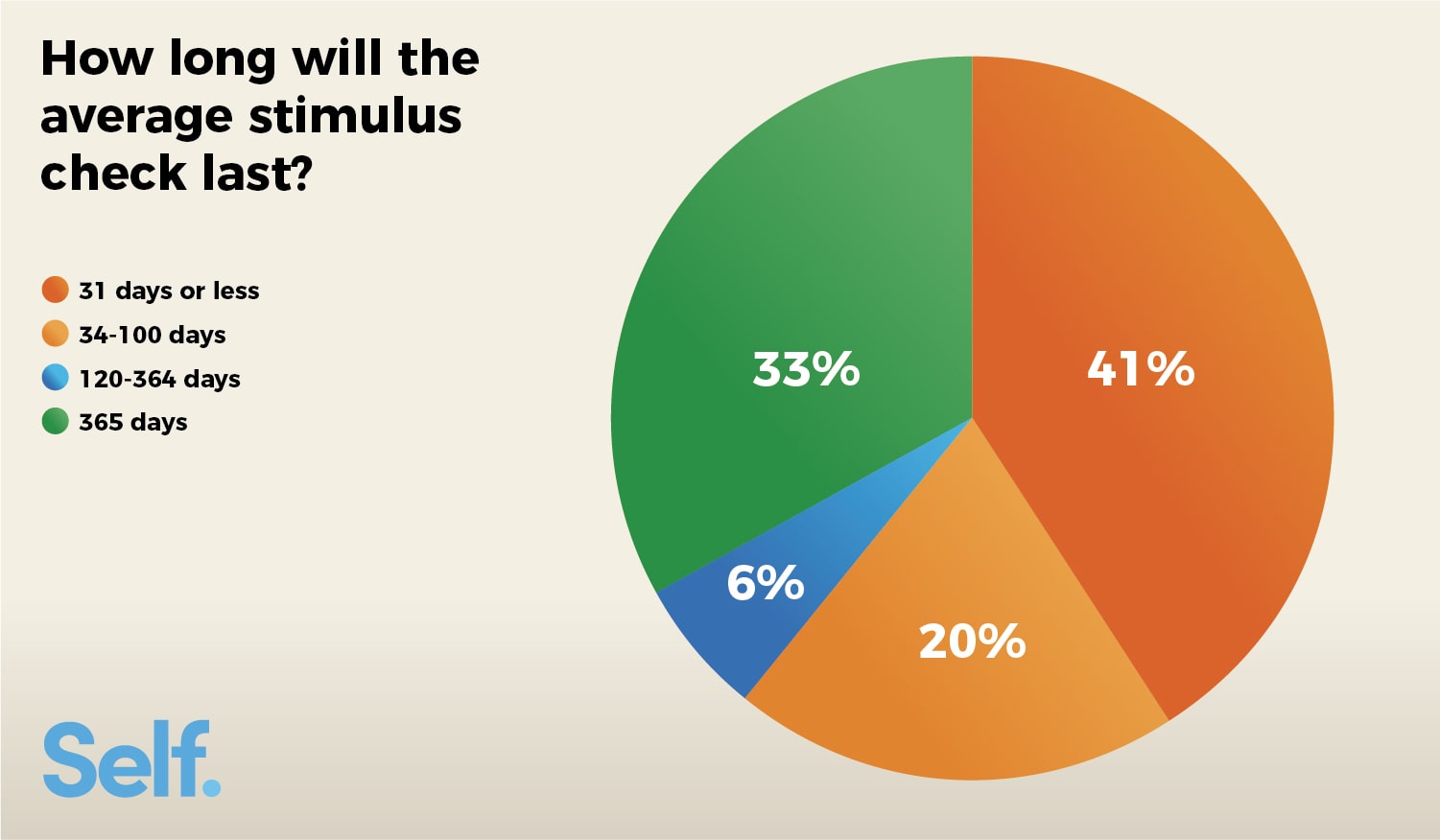 While the checks have had an overwhelmingly positive response, a large percentage don't expect it to last very long, with 61% believing that it will run out in 100 days or less and just under half (41%) of respondents saying that it would only provide sufficient funds for a single month, fueling the growing public consensus that the government will need to step in and provide more financial measures sooner rather than later.
This figure is particularly heightened among those aged 18-34, where more than half (56%) indicated that the stimulus would only see them through the next month.
40% using the check to pay off debt
While the average American will spend almost a fifth of their stimulus check paying off existing debts, almost 1 in 10 of survey respondents (9%) said that they will be using more than $1000 of their check to pay off outstanding amounts, with 82% of those using the full $1200 stimulus.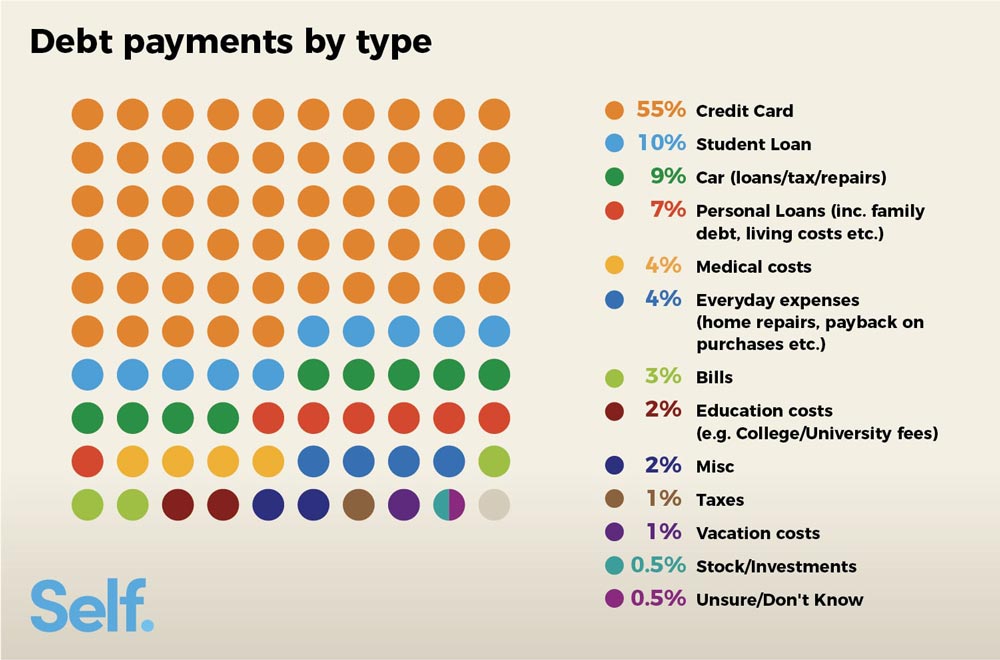 When asked, 2 in 5 respondents (40%) had at least some debt that they would be looking to pay off once the stimulus arrived.
Almost half of those that were paying off debt (48%) were aged between 18-34, suggesting that younger generations are being particularly hit hard in the current climate, but are also benefiting from the stimulus as a means to ease their financial concerns, at least in the short-term.
Despite that, those aged 18-24 were on average likely to spend the lowest amount of any age group on paying back debt, spending typically $121.67, less than half the average ($244.73) spent by those aged 25-44.
More than half of those that said that they would be using the stimulus to pay off debt, were planning to pay off credit card balances (55%), while 1 in 10 (10%) said they would be using the financial help to pay off student loans. Car loans/repairs (9%) and personal loans (7%) were also common reasons for debt, with a further 6% indicating that they would be paying off everyday expenses or other miscellaneous purchases.
Emergency funds are a priority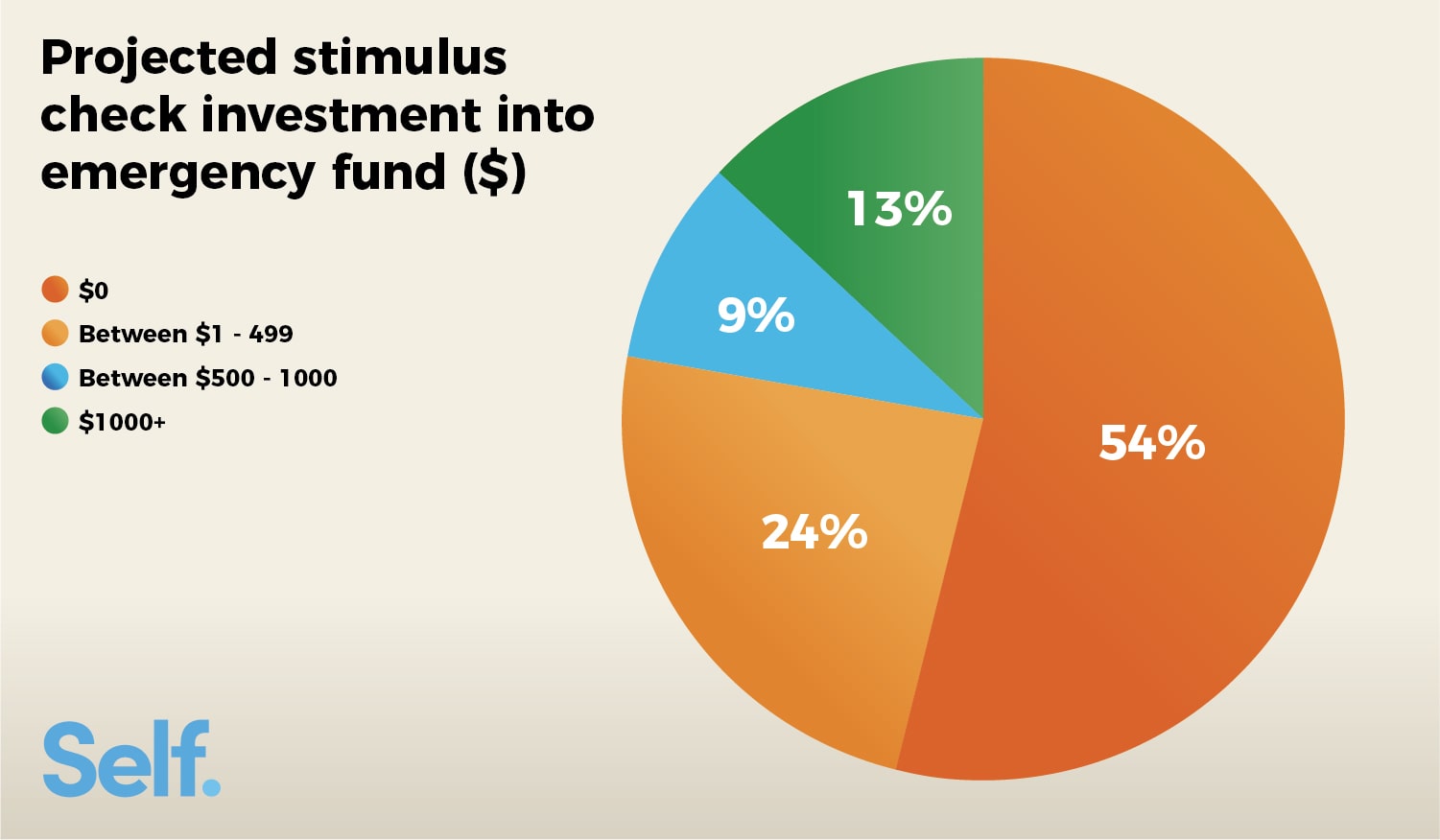 Almost half of respondents to the survey (46%) revealed that they would be using at least some of the stimulus check for their personal emergency fund, with over 1 in 5 (22%) putting a minimum of $500 aside for a rainy day. More than 1 in 10 (13%) are planning to put aside more than $1000. This comes as 51% revealed they were saving for a future pandemic, with 18-24 year olds, the largest group to financially prepare for the next global virus outbreak.
Of those that said they would be increasing their emergency fund, over half (51%) were aged between 18-34, indicating that the younger generation are conscious of the need to save and have one eye on their future wellbeing.
Methodology
To conduct our study, we surveyed 1,198 recipients of stimulus checks across all age groups, financial status and US geographical background.
Respondents were asked how they would be likely to spend their $1200 stimulus check across a range of sectors. In some cases, results have been filtered out for people who said that they will spend $0 in a specific area to give us isolated results.
The audience included a breakdown of the following:
38% of respondents were aged between 25-34; 24% between 35-44; 14% 45-54; 11% between 18-24; 9% between 55-64; and 4% over 65.