Whether you just graduated college and want to refinance your student loans, you're thinking about buying a car or home soon, or you just migrated to the US and want a credit card, good credit is essential.
Having a good credit score can mean the difference between paying back higher rates of interest per month or keeping costs low for the times you *do* need to borrow.
But how can you build credit for both your short and long-term financial goals?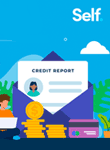 How to Build Credit When You Have None
Building credit from scratch can be a lot easier when you understand where to start and which mistakes to avoid.
Download our guide
To help, we put together this comprehensive list of credit building tactics and resources you can use to improve your credit score. We'll routinely update it with new tactics we see working for our customers too.
Just use the filters below to find the tactics that meet your needs.
Think of a credit-building tactic that's missing? Tweet us about it @SelfCreditApp.
See tactics by timeframe:
ST

Regularly Check Credit

Regularly checking credit scores can help you identify and address any inaccuracies in your credit report. Regular checks have the potential to almost immediately result in improvements to credit, given that doing so can highlight potential errors as well as credit issues that can quickly and easily be addressed.

LT

Keeping Accounts Active

Keeping older accounts open and active helps improve credit scores because scoring algorithms look favorably upon both older accounts and the level of available credit. Keeping accounts open and active directly impacts credit history, which represents 15% of the credit score calculation, and maintaining these accounts can therefore immediately improve credit scores. A 2019 survey revealed that more than half (58%) of people are unaware of the fact that closing credit cards can hurt credit scores, and a higher 61% have actually closed an account. According to Experian, "closing an account can affect your credit and make your credit scores temporarily drop. When you close an account, you lose the available credit limit on that account, which makes your utilization rate increase."

ST

Establish at Least Three Accounts

People with the highest credit scores have an average of three open cards. Opening and maintaining new accounts helps you build credit by increasing available credit, which can thereby immediately improve your "safe utilization ratio" and overall credit score.

ST

Pay Off Debt

A more universally recommended, if somewhat nuanced, strategy for all ages to build better credit is to pay off debt. Paying off debt can help maintain or reduce an individual's utilization ratio to at or below 30%. Lowering debt balances on revolving lines of credit (such as credit cards) to achieve this target ratio can have a near-immediate impact on credit scores.

LT

Pay On Time

According to FICO, making payments on time is the "single largest factor" in calculating credit scores, given that payment history comprises 35% of your credit score. Financial planner Rob Oliver says that missing a payment is "much worse" for credit scores than failing to pay off an entire credit card balance.

LT

Avoiding Opening Many New Credit Accounts Too Quickly

Opening new credit card accounts within a relatively short period raises a red flag to lenders that one is straining financially. It shows that one is taking on more debt and may experience challenges repaying them. Thus, having a manageable number of accounts and not more than one newly opened account indicates financial stability.

LT

Having a Credit Score Objective

Setting a credit score goal with an active plan to meet it is one way of improving your credit rating. With an objective in place, it is easier to design a plan of how to achieve it. For example, by setting an objective of improving one's credit score by 100 points, it is easier to avoid pitfalls that culminate in declining scores.

LT

Enlisting for a Starter Card

A starter card is the perfect starting point for the average person new to credit. The cards often have a lower credit limit with limited or no rewards. Starter cards help starters to get approval and offer them an opportunity to start building their credit scores.

ST

Using Alternative Data

The average person struggling with a poor credit score can use alternative scores. Credit companies provide options for people to use alternative data to prove their financial health. These may include data on proof of good money management capability and favorable payment histories.

LT

Improving Credit Utilization

Using as little credit as possible and keeping ratios low can help the average person to raise their credit rating. Maxing out credit cards often leads to a poor credit score. Thus, the average person should strive to attain a low credit utilization percentage relative to the credit amount to improve their credit score.

LT

Using Different Types of Credit Accounts

Although not a very important factor in credit score determination, having a mix of credit accounts and paying them off helps demonstrate responsibility to lenders. It also lowers one's credit risk perception among lenders. It demonstrates one's ability to manage different credit types, which helps raise credit ratings.

LT

Using a Secured Credit Card

Using a secured credit card can help the average person to build their credit rating. The card is prepaid with an amount that acts as the credit limit. Such a card can protect them from the possibility of spending an amount that they will not be able to pay, leading to a negative credit rating.

ST

Become an Authorized User

Becoming an authorized user on another individual's credit card account with a good standing can enhance one's credit rating. Normally, the good payment history of the account will reflect on the authorized user's credit account. The average person can leverage this option to improve their credit rating. However, the move may backfire if the account in question has a bad payment history.

LT

Limiting Loan Application to a Short Time

When shopping for loans, you should try to limit the number of loan applications in a short amount of time to avoid creating multiple hard inquiries. Multiple hard inquiries create the impression that someone is in urgent need fo financial support and therefore more likely to default. This often leads to a decline in credit rating.

LT

Creating a Budget

Focus on paying off debt in time and checking long-term spending to improve your credit rating. With a budget in place, you can closely monitor spending relative to what you earn. Thus, you'll be able to make smart choices when using credit cards, leading to low credit utilizations. The overall effect will be a boost on the credit rating.

LT

Working with a Nonprofit Credit Counselling Organization

The average person can seek professional help when overwhelmed by their credit situation. In this regard, nonprofit credit counselors or consumer credit counselling agencies can help. They can help you to create a budget, a debt management plan, and organize finances. With professional help, anyone struggling with the various credit situations can improve their credit rating.

ST

Disputing Credit Report Errors

Obtain your credit reports and analyze them for errors or any unexpected negative remarks. Then file a dispute with the right bureau for any errors such as personal information, late payment, or the number of open personal accounts. Correcting such issues could lift the credit score.

LT

Obtaining a Credit-Builder Loan

The average person seeking to build their credit rating from scratch or recovering from a massive negative credit rating can consider getting a credit-builder loan. A person makes fixed payments for a specified period to a savings account without any withdrawals until the end of the loan term. The lender will then give a favorable report on on-time payments, thus boosting the account owner's credit rating.

ST

Negotiating with Lenders

Take the initiative to negotiate with lenders if you fall below schedule in some payments. You can request for "pay for deletion" to ensure that the unpaid debt is erased from your credit report once paid off. The move can help improve a credit rating by avoiding negative remarks.

ST

Increasing Credit Limit

Increasing the credit limit can help decrease debt-to-credit ratio, which has a favorable impact on a credit rating. Thus, you can focus on increasing the limits on established credit accounts to improve your credit score. However, focus should be on increasing the limit only without a parallel increase in spending.

ST

Requesting for a Good Faith Adjustment

People with a history of paying on time can always request for a good faith adjustment if they miss one or two payments because of unavoidable circumstances. Write a letter to the creditor requesting for the elimination of the late payment record from their report in good faith. A favorable feedback can instantly improve your credit rating.

LT

Avoiding Hard Inquiries

Hard inquiries often lead to a decrease in credit score by an average of 5-10 points. They include credit cards applications, mortgages, and loans, among others. To improve or maintain your credit ratings, avoid them when possible.

LT

Adding Rent Payment to Credit Report or Paying Online

Improve your credit rating by including regular rent payments in credit reports. This boosts the quantity of positive information reported to the credit bureaus. Paying rent online also helps the credit bureaus to access such reports.

LT

Including Utility and Phone Payments in Reports

People who pay their utility bills and cell phone payments on time can improve their credit rating by including the payments in their credit report. Using the appropriate products available in the market, the payment histories can be added in their report.

ST

Reporting Stolen or Lost Cards

Reporting stolen or lost cards will help creditors to close an old account and transfer all relevant data, including payment history and opening date to a new account. If the original account had a good payment standing, a credit score improvement will occur quite fast. It also prevents instances of fraudsters using the card to make unnecessary payments, thus hurting the owner's credit score. Therefore, always make a formal report of any lost or stolen card.

ST

Piggyback on a Parent's Credit Account

FICO permits piggybacking, which is the practice of a family member using the credit account of another family member. This should only be done if the parent has a good credit score. Also, the parent will be able to monitor spending, which will lower risks of any bad spending that may happen.

LT

Get a Spouse to Co-sign a Credit Card

By default, a spouse's credit score won't affect the credit score of their other half, positively or negatively. However, if a person has a low credit score and marries a person with a good credit score, the person can get a credit card with their spouse as the co-signer. Doing it this way will result in the interest rate being lower than if they applied for the credit card alone. After six months of on-time monthly payments, the person can then request a credit limit release. Doing this every six months will result in the person having good credit and a card with lower interest rates.

LT

Open Credit-Friendly Checking Accounts

Opening a checking account with overdraft protection will open a new line of credit, which can positively affect your credit score. An increase in credit lines improve the debt-to-available-credit ratio. However, some banks do a hard inquiry which can lower your credit score. The best thing to do is to call the bank directly to check if they do a hard inquiry to enable overdraft protections on checking accounts.

ST

Swap Bad Debt for Good Debt

In a debt swap, two people or companies agree to exchange their debt, often in cases where one debt has an interest rate and one does not. Credit card debt is considered bad debt while installment debt such as mortgages, auto loans, personal loans, and student loans are considered good debt. Applying for good debt to pay off the bad debt, could improve your credit score in 60 days or sooner.

ST

Strategically Time Credit Inquiries

Be familiar with your billing periods. If a lender pulls a credit report before the end of their billing period, even when you intend to pay the debt, the debt will still be apparent. Waiting until after the bill is paid instead will look better as it results in a lower debt-to-income ratio. It is also a best practice to call the card issuer to ask when the balance gets reported to the credit bureaus.

LT

Expand Credit Age

Your credit age tells the length of your credit history. This usually takes up about 15% of the calculation of a person's FICO score. If you have a short credit history, you can immediately boost credit age by becoming an authorized user on a family member's credit card account. Long-term, typically, you will just have to wait. A good credit history is five years and up.

LT

Put Small Charges on Old Accounts

Just like opening credit lines can decrease credit utilization, closing credit lines and cards can result in an increased credit utilization, sometimes above the 30% threshold. Keeping old credit cards will also expand your credit age, which is a big factor in calculating credit scores. Ways to keep an old credit card active is by putting a small recurring charge on it and using it for small purchases. One reason a card could be closed is if it has an unsustainable fee. Another reason is that multiple cards were issued by the same company, which in that case the credit can be consolidated.

LT

Lease a Car Instead of Buying

Even though there is a lack of ownership and it can be more expensive than buying in the long-run, leasing a car instead of buying can help improve your credit score. Even though it's better to have a good credit score to lease a car, leasing a car with bad credit is possible. A credit score will go up just as long as the bills are paid on time each month, even though fees may be higher due to the bad credit.

LT

Make Payments Twice a Month

Each month there's a closing date before the balance gets reported to the credit agencies. Find out this date (simply by calling) and then you can make a payment two weeks before the closing date and again just before the closing date. Doing this is like "gaming the system", and not only does it prevent late payments, but the low credit card balances from seemingly 'overpaying' will decrease an individual's utilization ratio.

ST

Invest in Bonds Rather Than Stocks

Stocks are a common way that people invest their money. However, when signing up with a brokerage firm or an online stock-trading account, some stock accounts like margin accounts will require a hard inquiry. Bonds on the other hand will only require a soft inquiry, which doesn't affect credit score. The downside to bonds is that the returns are slower compared to stocks.

LT

Gradually open new accounts

Opening one line of credit at a time instead of multiple accounts at a time is good for your credit score, because the latter signals that you are in need of a lot of money that you do not have.

LT

Avoid store credit cards

Store credit cards are known for skyrocketing interest rates after promotional periods of no interest. On the other hand, banks and credit unions offer low interest rates.

ST

Avoid joint credit products

It is important to avoid signing for joint accounts or leases where you have to rely on other people for payments. If the contract is in someone else's name and you have promised to pay, this can lead to credit damage when or if a default occurs. You do not have total control of payments nor might you be able to pay the whole debt on your own if the need arises. Avoid this in as many cases as possible.

ST

Beware of scammers

It is important to watch out for scammers who claim to repair credit or offer credit-monitoring products, as they usually steal your personal information. Once your information is compromised, the scammer can charge accounts or open new ones, thus damaging your credit.

ST

Follow the 60-Day Rule

It is important not to let payments go 60 days past due. While some lenders might not report balances that are 30 days past due, they are highly likely to report two back to back missed payments.

ST

Brush up on credit basics

Millennials and those new to the credit system first need to understand how credit works in order to be able to improve their credit scores. According to a survey by the Consumer Federation of America and VantageScore Solutions, millennials have the lowest level of knowledge on credit as compared to older generations.

ST

Getting a credit card

Having credit initially is essential for improving credit. Getting a credit card is an important first step because according to myFico, your payment history accounts for 35% of the credit score.

LT

Pay student loans diligently

In order to build your credit, it is important to pay student loans on time every month because student loans are reported to credit bureaus.

ST

Understand how much you can afford

The debt-to-income ratio is calculated as all monthly debt obligations divided by gross monthly income. According to CFPB, consumers with higher debt-to-income ratios are more likely to find it hard to make monthly payments. In general, you should keep ratios at or below 43% when taking on additional debt.

ST

Get a student credit card

Student credit cards do not require one to have a long credit history in order to get approved. They give young consumers and students the chance to build their credit, and they usually come with promotional offers and rewards. However, it is important to watch your borrowing with these kinds of cards as they usually have higher interest rates.

LT

Using the debt snowball technique

In the debt snowball technique, extra payments are made towards the lowest balance and for the other balances, the minimum is paid. Once the lowest balance is paid off, you move to the next lowest. This technique can motivate you to keep paying off your debt as you are able and see progress within a short time.

LT

Paying off debt using credit card consolidation

Credit card consolidation is whereby you take out a personal loan or use a balance transfer credit card to repay existing debts. If the personal loan or balance transfer card has a lower interest rate or more favorable repayment terms, you can repay debt faster because more money goes towards paying down the principal.

LT

Taking out installment loans

Instalment loans are easy to obtain, and they help with building good credit if you make the agreed-upon payments on time. These include auto loans, mortgages and personal loans. It is also important to comparison shop in order to get the lowest interest rates, fees and service charges.

ST

Paying more than once in a billing cycle

If you can afford it, it is useful to pay off bills more than once in a billing cycle, for example every two weeks rather than once a month. This tactic lowers your credit utilization and improves your credit score.

LT

Having an emergency fund

Create a fund for rainy days that is equal to about six months of income. In the case of a rough financial patch, this fund will provide a means to pay bills, thus keeping your credit score healthy.