When you have no credit, limited credit history, or bad credit, some lenders may require you to apply for a loan with a cosigner. Adding a cosigner with strong credit history and a good credit score could strengthen your loan application and improve your chances of qualifying for certain types of financing.
Yet there are drawbacks to applying for a loan with a cosigner, and some people don't have anyone who's willing or able to cosign for them. If you're in a situation where you don't have a cosigner or where you prefer to get a loan on your own, this guide can help you learn how to accomplish that goal.
Pros and cons of cosigners on loans
Before you ask a family member or friend to cosign a credit obligation with you, it's important to understand that this decision features risks and benefits for both of you. Below are some of the pros and cons to using a cosigner on a loan.
Pros
Better approval odds: When you add a cosigner with good credit to your application, it may improve your chances of qualifying for a loan, credit card, or other type of financing.
Lower interest rates: Another perk of adding a well-qualified cosigner to your financing application is the possibility that a lender might offer you a lower interest rate and more attractive borrowing terms.
Credit building potential: If a cosigner helps you qualify for a loan, you can use the opportunity to try to build better credit for the future. Be sure to manage your new loan or credit card in a responsible manner with on-time payments and low credit utilization rate (aka balance-to-limit relationship) on credit cards.
Cons
Credit risk for your cosigner: The friend or family member who cosigns for you is putting their credit on the line to do so. If you make late payments, your cosigner's credit score will likely experience damage alongside your own. With credit cards, you could also damage your cosigner's credit with a high credit utilization rate if you run up a high balance relative to the credit limit.
Future borrowing limitations: Another way cosigning could hurt your friend or family member is with future borrowing limitations. Cosigned debts can impact debt-to-income ratios (DTI ratios). Your cosigner may be able to borrow less money for themselves in the future if they need to take out financing for personal reasons because your debt appears on their credit report.
Relationship strain: Asking a family member or friend to cosign can strain important relationships in your life, especially if you can't afford to repay the debt as promised.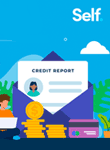 How to Build Credit When You Have None
Building credit from scratch can be a lot easier when you understand where to start and which mistakes to avoid.
Download our guide
Does bad credit or no credit make a difference?
If you have bad credit or no credit, a lender may ask you to add a cosigner to your application. A well-qualified cosigner can reduce the lender's risk. When you add a cosigner to a loan, the lender has a second person it can go after for payments (and perhaps even to hold responsible in a lawsuit if necessary) should you default on your debt.
Remember, reviewing credit is how lenders assess the likelihood you'll repay on time and the risk of doing business with you. Your credit score tells a lender the probability that you'll pay a credit obligation severely late (by 90 days or worse) in the next 24 months. [1] Experian.com. "What Is the Difference Between a FICO® Score and a Credit Score? https://www.experian.com/blogs/ask-experian/what-is-the-difference-between-fico-score-and-credit-score/ Credit scores range from 300-850. The more likely you are to pay late, the lower your credit score will fall on that scale.
Of course, your credit score (or a lack thereof) isn't the only detail that may motivate a lender to request a cosigner when you seek financing. On top of your creditworthiness, your capacity to repay new debts also influences your ability to qualify for new financing on your own.
Lenders measure your capacity to repay by assessing the relationship between your income and existing debts (aka your DTI ratio). If your DTI ratio is too high, a cosigner with additional income could reduce the lender's risk by adding another responsible party to the loan.
How to get loans without a cosigner
Below are some potential ways to improve your loan qualification odds without including a cosigner on your application.
Cars and auto loans
Down payment: If you're unable to apply for an auto loan with a well-qualified cosigner (or prefer to avoid doing so), a sizable down payment might work in your favor. A down payment is another strategy that can reduce risk for a lender. Plus, putting money down could lower your monthly payment and even your interest rate in some scenarios.
Trade-in: Another option that might help you avoid the need for a cosigner when you apply for an auto loan is providing a valuable trade-in vehicle. A trade-in can act like a down payment in some ways, potentially reducing the overall financing costs of the new loan and the lender's risk associated with it.
Bad credit car loan options: If credit issues are making it difficult to qualify for a car loan without a cosigner, consider researching bad credit auto loan options until you can improve your situation. However, you should aim to avoid mistakes like "buy here, pay here" car lots and "we finance anyone" dealerships. Such options are often predatory and you could wind up paying exorbitant interest rates and fees.

[2]

Consumerfinance.gov "Data Point: Subprime Auto Loan Outcomes by Lender Type." https://files.consumerfinance.gov/f/documents/cfpb_subprime-auto_data-point_2021-09.pdf
Student loans
Federal student loans: Most federal student loans don't require a credit check or a cosigner.

[3]

Studentaid.gov. "Federal student loans for college or career school are an investment in your future." https://studentaid.gov/understand-aid/types/loans You can apply for federal student loans online by completing the Free Application for Federal Student Aid (FAFSA).
Bad credit private student loan options: If you're ineligible for federal student loans or max out the federal student aid available to you, you might need to consider private student loans. Private lenders typically review your credit when you seek financing. With good credit, getting a competitive loan offer without a cosigner may be easier. You may also be able to find bad credit student loan options on your own, but you should anticipate higher interest rates and fees when working with lenders that have less strict loan qualification requirements.
Personal loans
Consider secured loans: If you think you'll have trouble qualifying for a personal loan without a cosigner, you might want to look into secured loan options. With secured loans, you pledge collateral that the lender can seize if you fail to repay the loan as promised. This collateral reduces the lender's risk, and could make it easier for you to qualify for a personal loan even if you have credit issues.
Bad credit personal loan options: Some lenders are more willing than others to work with applicants with credit challenges. Interest rates and fees do tend to be higher with this type of financing. So, it's important to shop around and make sure you don't commit to any loan you're not comfortable repaying. Be careful to avoid predatory payday loans as well that may feature financing charges as high as 400% APR.

[4]

Consumerfinance.gov. "What is a payday loan?" https://www.consumerfinance.gov/ask-cfpb/what-is-a-payday-loan-en-1567/
How old do I need to be to get a loan without a cosigner?
Each state sets its own rules regarding the legal age a consumer must reach in order to sign a contract. This age may vary based on contract type as well. [5] Consumerfinance.gov. "Is a lender allowed to consider my age or where my income comes from when deciding whether to give me a loan?" https://www.consumerfinance.gov/ask-cfpb/is-a-lender-allowed-to-consider-my-age-or-where-my-income-comes-from-when-deciding-whether-to-give-me-a-loan-en-1181/
In many states, you must be at least 18 years old to sign a contract to take out a loan without a cosigner. Nonetheless, there are still a few important details to keep in mind.
You might be able to qualify for certain loans before the age of 18 with a cosigner.
Reaching the age of majority in your state (typically 18) doesn't guarantee you'll qualify for a loan since you still need to satisfy a lender's qualification criteria.
It's also important to note that there are different rules where credit cards are concerned. The Credit Card Accountability Responsibility and Disclosure Act (Credit CARD Act) of 2009 prevents credit card issuers from opening accounts for anyone under the age of 21 years old unless they have a cosigner or independent income that's sufficient to cover their payments. [6] Experian.com. "What Is the Credit CARD Act of 2009?" https://www.experian.com/blogs/ask-experian/what-is-the-credit-card-act-of-2009/
How to improve loan approval odds without a cosigner?
If your goal is to qualify for a loan without a cosigner, consider working to reduce your risk in the eyes of a lender. Below are three strategies that may help.
Improve your credit score
There's no one-size-fits-all approach to improving your credit score. For example, someone who needs to build credit from scratch may need to follow a different path compared to a consumer who's working to rebuild damaged credit.
Nonetheless, it can be helpful to start by checking your credit reports from all three credit bureaus and your associated credit scores. From there, you can take some time to study the major factors that influence your credit scores and learn what it takes to earn a good credit score.
Here are some common steps that people often take when trying to improve their credit.
Establish positive credit accounts. Credit builder loans and secured credit cards might be a good place to start if you have no credit, limited credit history, or bad credit. Becoming an authorized user on a friend or family member's well-managed credit card might be helpful as well in certain situations.
Pay on time. Avoiding late payment is essential if you want to build good credit.
Reduce your credit card balances. Paying down credit card balances could lower your credit utilization rate (aka the relationship between your credit card limits and balances). Maintaining a low credit utilization rate is important when you're working to earn and maintain good credit scores.
Pay down debts
If your debt-to-income ratio is too high, it might be difficult to find a lender that will approve you to take on additional debt without a cosigner. Paying down debt could put you in a better position to qualify for new loans on your own when you need them. Plus, debt elimination may have other financial and credit benefits as well.
Add income
One reason a lender might ask for a cosigner is because your income alone might be insufficient to support the monthly payments for the new loan you're seeking. However, if you can add additional eligible income through a raise or eligible part-time job, you might be able to resolve this issue in another way rather than adding someone else to your loan application.
Increase your down payment
Another potential way to reduce the lender's risk (and therefore hopefully avoid the need for a cosigner) when you apply for a loan is to put up a bigger down payment. A larger down payment shows a lender that you have skin in the game—personal funds you would lose in the event of a default.
Furthermore, providing a bigger down payment when you borrow lowers your overall loan amount. This can also shrink the size of your monthly payments, another factor lenders often consider when assessing an applicant's capacity to afford new debt.
Lenders to consider
Some lenders may be more likely than others to issue you a loan without a cosigner. You may also be able to see if you can get pre-approved for a loan with some lenders and, if so, review potential loan offers. (Tip: Many lenders who offer a loan pre-approval process only require a soft credit inquiry that won't hurt your credit score.)
Potential lenders
If you're looking for lenders who will issue loans without a cosigner, the following list can help with your research.
National banks
Local community banks
Online banks
Credit unions
Online lenders
Auto dealerships
Finance companies
Alternative sources of finance
If you're unable to get a loan without a cosigner from one of the sources above, your remaining options may be limited. However, there are a few options to consider.
For small dollar loans, you might be able to find a credit union that offers a payday alternative loan (PAL) that could help you on a short-term basis. It might also be possible to get a paycheck advance from your employer or a loan from a friend or family member, depending on your situation.
Do your best to avoid predatory lending options like payday loans, title loans, and pawn shops. And it's typically best not to charge more on a credit card than you can pay off in a given billing cycle due to high interest rates and the potential credit score damage that a high credit utilization rate could cause. However, if you do use a credit card in an emergency, try to make a plan to pay off your credit card debt sooner rather than later.
Bottom line
Not being able to qualify for financing on your own can be a major inconvenience. So, it's wise to put yourself in a position where you can avoid the need for a cosigner as much as possible. Working to build and improve your credit can be a great place to start.
Sources